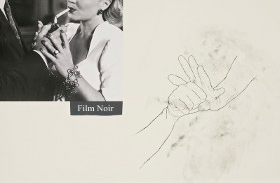 The work of the Portuguese artist Julião Sarmento (Lisbon, 1948), one of the most important and representative creators inside the context of the contemporary international art, comes to Galicia of the hand of the Foundation Luis Seoane of To Corunna across the sample Juliao Sarmento. Guest or Host?,, a project coproducido for the institution coruñesa and the CAAM, Center The Atlantic Ocean of Modern Art of Las Palmas of Great Canary.
Juliao Sarmento. Guest or Host? Comisariada for the critic of art and the director of the Foundation Luis Seoane, David Barro, constitutes the first great individual sample of Sarmento's work in Galicia, assembling near a treintena of pieces in different formats as painting, sculpture, drawing, photography, video and facilities that go from the beginnings of the decade of the eighties up to the present moment, in an effort for showing to the spectator the polyhedric character of the work of the artist.
The title of the sample, Guest or Host?  it alludes to the disability to discern the place in which we place before Julião Sarmento's works, specially with regard to his performances, where the own artist is a host on having placed the scene, but also of guest, since it remains out of her.
The explanatory tour has been conceived as a walk along some constants of his work as the eroticism, the memory or the desire leaked across different cultural references, especially literary and cinematographic, from Marguerite Duras to James Joyce, of Raymond Carver to Pina Bausch or Atom Egoyan, for mentioning only some, represented alternative in a subtle or manifest way.
Julião Sarmento. Guest or Host?
Fundación Luis Seoane. Coruña. 3 Junio 2014 – 28 Septiembre 2014
+ info
Búsqueda para satisfacer el conocimiento de la actividad arquitectónica y tangentes que se generan. La idea es crear un espacio para divulgar los diversos proyectos en busca de nueva inspiración y de intercambio.