Inside the activities in pursuit of the sustainability that the UDC (University of A Coruña) across the Vicerrectorado de Infraestructuras is carrying out in his Campuses, one finds the installation of an recycled organic materia Area, that transforms in "compos" the organic residues originated in the cafeterias of the powers of the Campus of A Zapateira.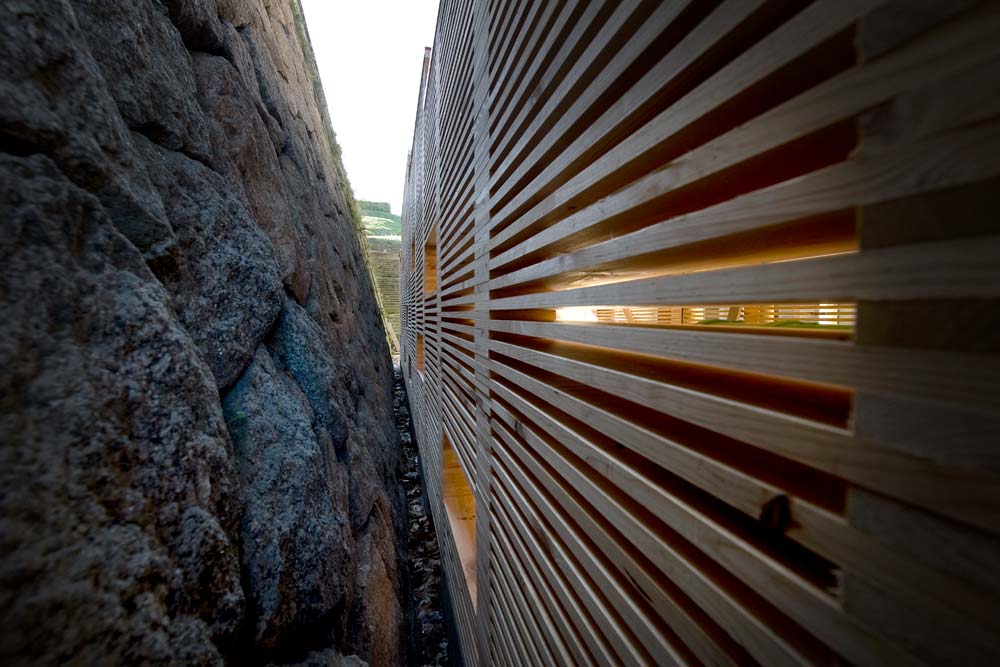 The order is received of realizing an installation that lodges, in a temporary way, the machinery and aparataje necessarily for the transformation of the organic matter.
There appears a "installation" realized with tables of wood of pine insignis "piled up" like the traditional dries of wood of the sawmills. To the wood there is not applied to him any treatment of chemical protection by the intention of being able to be incorporated into the process of compostaje in the moment in which the useful life of the installation comes to his end.
The take-off of the same ones on the crossbeam of concrete executed to the effect is realized by pieces you prefabricate of concrete that habitually they use for the accomplishment of the bordillos of the sidewalks.
The constructive used system generates abundances and emptinesses equally that it separates to facilitate the ventilation and lighting of the installation they award to the set depth and a major accentuation of his perspectives and transparencies at the moment of observing it and of treating it, simply as an object.
The lighting meets increased by the escalonamiento of the cover that to major provides visual leaks from the interior.
The strong presence of the breakwater of granite that is located in one of his wings joins to the interior practising a series of hollows eliminated tables during the process of addition of the same ones.
Work: Ephemeral installation for recycled organic materia Area Campus of Zapateira
Location: Campus da Zapateira, A Coruña [Galicia]
Authors: trespes.arquitectos: Carlos Mosquera del Palacio, Alberte Pérez Rodríguez, Enrique Iglesias Lima
Collaborators: Alejandra García Macías, Felipe Trillo (Design).
Promoter/ Owner : Universidade da Coruña
Construction company: J.F. Varela Reformas
Datee: Date of draft of every phase of the Project and of the end of obra/PBE Mayo2011 Works 2011 Receipt September 2011
Total budget 10.500,00 € (budget of bidding)
Cost/m2 328,12 euros/m2
Photography: Ana Amado
+ trespesarquitectos.com
Búsqueda para satisfacer el conocimiento de la actividad arquitectónica y tangentes que se generan. La idea es crear un espacio para divulgar los diversos proyectos en busca de nueva inspiración y de intercambio.