Fourth edition of the cultural week of architecture, organized by the pupils of the ETSA of Corunna. This year the FETSAC12, it tries to give a sense mas positively, to this environment of negatividad that makes a detour lately to the sector of the architecture. From Monday, the 23rd until Thursday, the 26th of April one invites to take part to different modals that have developed his activity in a line parallel to the architecture but that thanks to what they have learned along his studies, they could have exercised in a completely different way his profession. Including different areas as the publications, the graphical design, the advertising, the diffusion … etc.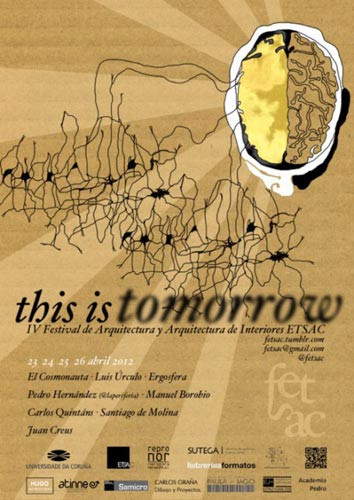 El cartel de conferenciantes de esta edición cuenta con:
– El Cosmonauta,
– Luis Urculo,
– Ergosfera,
– Pedro Hernandez from La Periferia Domestica,
– Manuel Borobio,
– Carlos Quintans,
– Santiago de Molina,
– And one Juan Creus's special actuación.
Búsqueda para satisfacer el conocimiento de la actividad arquitectónica y tangentes que se generan. La idea es crear un espacio para divulgar los diversos proyectos en busca de nueva inspiración y de intercambio.