Workshops to give free revenue to the imagination! Providing a place to the girls and children where to explore and to discover the world across the construction of histories. Formalizing his creative intuitions in an object – book that his respective one will take with it of return the house. The near workshop will be of construction of books.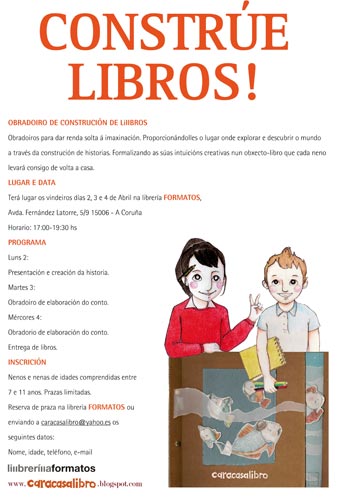 Later the information is contributed.
Program
+ Monday 2:
Presentation and creation of the history.
+ Tuesday 3:
Workshop of production of the story.
+ Wednesday 4:
Workshop of production of the story.
Delivery of books.
Price of the workshop is 35 € for three days. It includes the asesoramento and creative supervision of the equipment of Caracasalibro, formed by three persons, and the whole material that could be necessary during the development of the activity.
Location:Formatos Bookshop , in Avenida Fernández Latorre 5/9. 15006 ‐ A Coruña
Date: 2, 3 and 4 de april, 2012.
Schedulede: 17:00 to 19:30 hours.
For more information to call to the telephones: 696 482 233, 649 106 830 o 658 554 781
Búsqueda para satisfacer el conocimiento de la actividad arquitectónica y tangentes que se generan. La idea es crear un espacio para divulgar los diversos proyectos en busca de nueva inspiración y de intercambio.