The creative study Vibok Works in collaboration with the civil group Ábrete Séneca summon the Contest of Brief Statements "Latent Cities, possible Worlds". This initiative places inside a more wide publishing action, which aim is to promote, across the edition of a book, the reflection on the utilization and civil, royal and possible enjoyment, of the spaces of the city.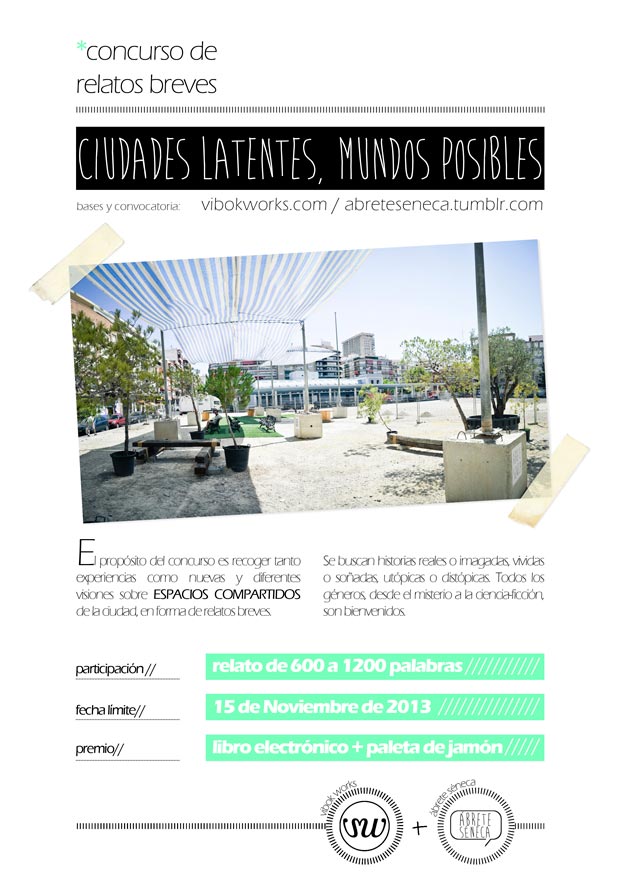 The intention of the contest is to gather both experiences and unpublished and divergent visions on the SPACES SHARED in the city in the form of brief statements. Royal histories are looked or imagined, lived or dreamed, Utopian or distópicas. All the kinds, from the mystery to the science fiction they are welcome.
A selection of the received works will be included in the book "Ábrete Séneca" whose publication is foreseen for December, 2013. The contest is opened writers of all the nationalities, without limit of age. One will present a statement for author, in Castilian or English language, of any kind, with a minimal extension of 600 words and maxim of 1200 words.
The statements will have to be original and unpublished. The style and treatment will be free, inside the select subject matter: the existence of urban spaces with a possible or latent life, spaces that might be or that are transformed and"rewritten" by the use and the daily practices of the citizens. There will be valued the introduction of a reference to the daily use (royal or imaginary) of one or more enclaves of the city of Alicante.
The juror is formed by the writer Jose Luis Ferris, The Director of the Institute of Culture Juan Gilabert; the writer and blogger Silvia Nanclares; the arquitecta, writer and publisher Ethel Baraona Pohl (Dpr Barcelona); the architect and teacher Francisco Leiva (Group Aranea); Jose Ramon Navarro Vera like delegate of the group Ábrete Séneca and Paula V. Álvarez in Vibok Works's representation.
Of between the works selected by the juror he will be elected the winning one, which will receive an ELECTRONIC BOOK and a PALETTE OF HAM.
Búsqueda para satisfacer el conocimiento de la actividad arquitectónica y tangentes que se generan. La idea es crear un espacio para divulgar los diversos proyectos en busca de nueva inspiración y de intercambio.