It is a question of the integral rehabilitation of a house located in Bugarra (Valencia), in a deep plot between medians where a business and housing on higher floors coexist on the ground floor. We started from a dark house, with excessive compartmentalization and lack of natural light, the result of different extensions and reforms that had been filling its surface, without practically recognizing the Patio House.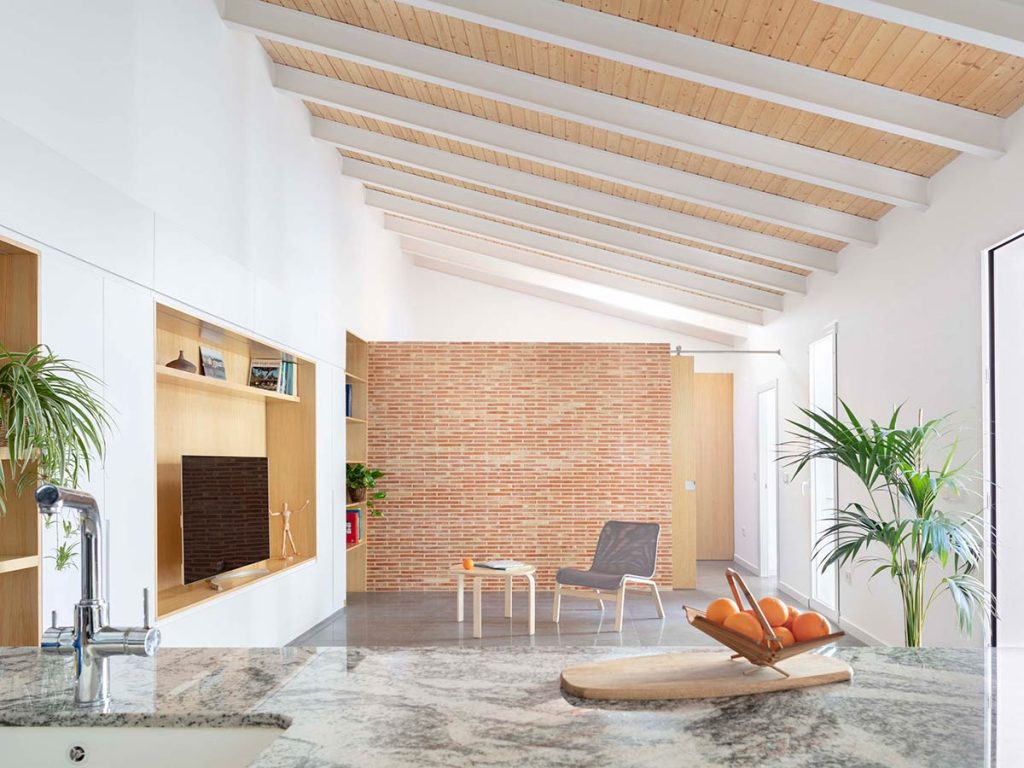 The project has as its fundamental idea: to recover the life around the patio and return the clear environment and the calm landscape. The organization of spaces is dictated by light. The fragmentation of which it starts gives way to a succession of flexible and changing spaces, which allow cross ventilation and transfer light to the heart of the house. Unpacked spaces are articulated through sliding doors, allowing each inhabitant to take their place according to their needs.
'The sliding door avoids the pitfalls and magnifies the space. Without changing your balance, it allows your metamorphosis. When it opens, two places communicate with each other without offending each other. When it closes, it restores its integrity to each one. The sharing and the meeting are held without intrusion.'

Fragment of 'The elegance of the hedgehog'.  Muriel Barbery
The location of the staircase marks the arrival in a common space through which the hierarchy of the house's environments is articulated, allowing to maintain independence between them. One of them works as a parent's home and another independent environment for the use of children, with meeting spaces between them. The interior of the rooms is emptied to achieve a freer concatenation of the sequence of spaces. The perimeter walls become equipped walls. They widen and 'dig' to form niches, house storage, shelves and facilities, so that they concentrate services and free up the rest of the space.
The volume that appears around the patio is reconstructed maintaining the original volumetry of the building and resorting to dry construction solutions, which allow a quick execution to alter as little as possible the development of the family business. During the construction process, the trades present in the municipality are involved and work with brick, ceramic tile and Alicante blinds. Wood and brick appear as a leitmotif that runs throughout the house. The holes that open in this envelope pursue that the patio is involved in the day to day and frame the views towards the landscape. Throwing a glance, cropped on the wall, from a protected site, under cover, the landscape gains in depth, becoming almost the space of a painting.
Work: C11 House
Author: Anna Solaz
Type of intervention: Integral reform of single-family housing
Location: Bugarra, Valencia, Spain
Ending year: 2018
Photography: Milena Villalba. Fotografía de Arquitectura
+ annasolaz.com
Búsqueda para satisfacer el conocimiento de la actividad arquitectónica y tangentes que se generan. La idea es crear un espacio para divulgar los diversos proyectos en busca de nueva inspiración y de intercambio.