This one is a book that it invites the architects to operate and to join the political space. His authors propose to rescue that ethical vision that inspired the democratic illustrated rationalists of the 19th century, with the aim to construct a renewed progressive thought of the architecture in the new millenium. And it is that this artistic and cultural device that is the architecture has been always tied to the politics and, of a way or of other one, to those that hold the power.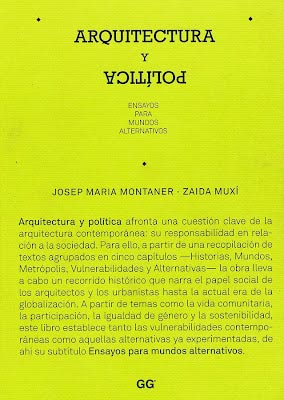 This common reflection of the authors starts by offering a personal vision on the mechanisms that the rampant neoliberalism imposes in the present unequal transformation of the city and the territory, to the detriment of his inhabitants and users. It indicates, somehow, the origins of the urban problems that we suffer daily and shows some alternatives of action that would be necessary for the positive transformation of the cities in benefit of the isolated groups and, definitively, of the majority of the population.
[…]
Federico García Barba
+ article is published in islas y territorio
Tests for alternative worlds
ByJosep María Montaner and Zaida Muxí
Gustavo Gili. Barcelona, 2011
Búsqueda para satisfacer el conocimiento de la actividad arquitectónica y tangentes que se generan. La idea es crear un espacio para divulgar los diversos proyectos en busca de nueva inspiración y de intercambio.