PALAU OF THE CATALAN MUSIC. BARCELONA. March 23 and 24, 2010
Prototypes in Operation. This is the chosen topic this year to develop in the conferences that SmartGeometry organizes in Barcelona on March 23 and 24. It is a question of knowing and analyzing advances in the field of design for computer and parametric implementable in projects of architecture: exploring tools, technologies and methodologies that the output of the means used improve until now. The first day a work day will be tried during the one which experiences will be exchanged between assistants and experts in the topic. Between assistants and topics that that day will be dealt you can emphasize the intervention of Jeroen Coenders of Arup that will talk on prototypes applied to the structures calculation and development, or to Brady Peters de la Royal Danish Academy of Fine Arts, School of Architecture that will explain how to control the acoustic one of a space through designed artefacts to this end. And they approached the dais in the second specialists that these programs develop, so much from the theoretical point of view as practical. Fourteen participants will give developmental PIN numbers of the design for computer with interventions as that one of Marc Burry de RMIT on the Geometry such as a motor sports of the design of Gaudi; Rupert Soar de Freeform Engineering Ltd and of the University of Loughborough with the topic: "Of the termites to buildings", or two members' share of Foster + Partners showing a material selection of workshops of the study.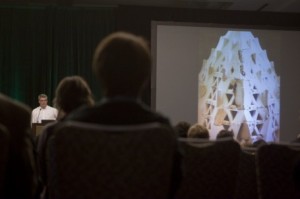 Intervention of M. Burry of the RMIT University.
The group SmartGeometry was formed in 2001 as an association between the practice, the investigation and the academy. Some leaders institutions in the world of the architecture and the engineering (including Foster + Partners, KPF, Arup, Buro Happold and) and educational (as the Architectural Association School of Architecture, the MIT, the Technical University of Delft and the University of Bath) were in the core of the organization.
The Group of SmartGeometry want to promote the emergence of a next generation of designers that are able to explode the combination of the digital media and physiques; and to show design new tools 3D to the professionals of the construction.
Búsqueda para satisfacer el conocimiento de la actividad arquitectónica y tangentes que se generan. La idea es crear un espacio para divulgar los diversos proyectos en busca de nueva inspiración y de intercambio.