Next Friday 28 June it will give  to know the winner of the Prize Eme3 Foundation Jesús Serra, a galardón that rewards the best project between the 40 national participants and international of the 8ª edition of the festival architecture Eme3 that receives the enclosure Fabra i Coats of the 27 to 30 June.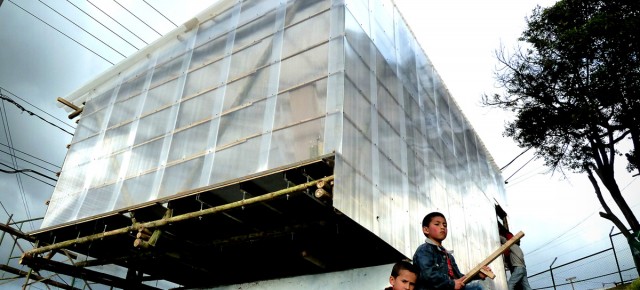 As each edition from 1999, the scientific committee of Eme3 formed by professionals of the field of the architecture, the philosophy, the design and the art, as well as a representative of the foundation, have been the attendants to choose the project that more represents the thematic of this edition, "Topias, utopias becoming real", and his fields: new uses of the public space, the house in situations of crisis and the space of work in evolution.
Eme3 festival of architecture
During 4 days, the festival gathers to creators of different projects of architecture and urbanismo, national and international, that propose new forms of work and a different way to understand the reality, reflexionando on the recovery of spaces into disuse.
The festival turns into a laboratory of experimentation where is possible to discover other forms to do architecture and that boosts the exchange between all the participants and the public assistant through the exhibition Share-it and the section Build-it with interventions and workshops, debates and talks dynamic around the architecture and the society with the participation of recognised professionals of the field of the architecture and the art.
The activities of the festival will lengthen  during all the month of July, with the exhibition and open activities proposals by neighbours and associations like shows of dance, concerts, workshops, and video projections, amongst other, for dinamizar the space Fabra i Coats.
The Festival Eme3 is a space in which architects, urbanistas and creative of different disciplines can find and show his projects: innovative works, little conventional and that somehow escape  of the majority tendencies in the construction and the urban planning. At present already it is a space of exhibition, debate and experimentation that acts like forum of interaction and lanzadera of proposals that conjugan the architecture, the art and the design. In his previous editions Eme3 has received a total of 70.000 visitors.
Day: Friday 28 June 2013
Hour: 19 h
Place: Fabra i Coats, c/Sant Adrià, 20 (Barcelona)
Assist: Javier Flat, director Eme3 and Laura Halpern, director of the Foundation Jesús Serra
Búsqueda para satisfacer el conocimiento de la actividad arquitectónica y tangentes que se generan. La idea es crear un espacio para divulgar los diversos proyectos en busca de nueva inspiración y de intercambio.