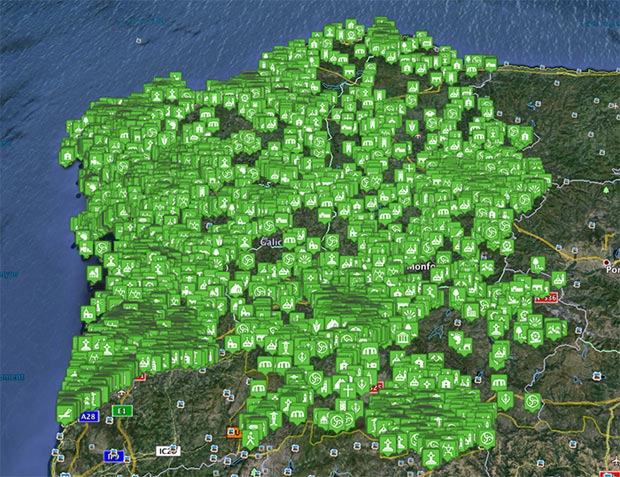 Let's sense beforehand patrimoniogalego.net for Google Earth!
It is a question of an added and complementary tool to continue patrimoniogalego.net and it one of the programs uses in combination com SIG (systems of geographical information) more powerful and popular of Internet.
Only you have to lower this ficheiro KMZ, abrilo from Google Earth and enjoy!
Every night our servant realizes an operation to turn the database into a file KMZ – the native structure of information of Google Earth. This wants to say that we recommend to you to lower it again, occasionally, to enjoy the contents updated with all the last incorporations to the database.
A today you are going to be more than 6800 located elements!
What do you prune to do with this information?
You to remember that this information is under a license Creative Commons. You cannot copy the information and use them thereabouts without to mention the original source (patrimoniogalego.net) and his cataloguer, and cannot use them with spirit of profit without obtaining the permission of the cataloguers of each one of the goods.
We want to be grateful for Eladio Rial, technician of our equipment, the writing of this software that multiplies the possibilities of patrimoniogalego.net.
Búsqueda para satisfacer el conocimiento de la actividad arquitectónica y tangentes que se generan. La idea es crear un espacio para divulgar los diversos proyectos en busca de nueva inspiración y de intercambio.