Cristina Iglesias (San Sebastián, 1956) began her training in art in Barcelona, focusing on the fields of drawing and ceramics. She completed her studies at Chelsea School of Art in London at the beginning of the 1980s. It was during this decade that her career within the institution of art took off, favoured by her presence at events such as the Bienal de Venecia, where she represented Spain in 1986 and 1993. Subsequently, a solo exhibition of her work organized by the Guggenheim Museum in New York in 1997 led to her consolidation in the international art world. After this show came others that were also held in important art venues and growing interest in her work was shown by the collections of some of the most important museums in the world.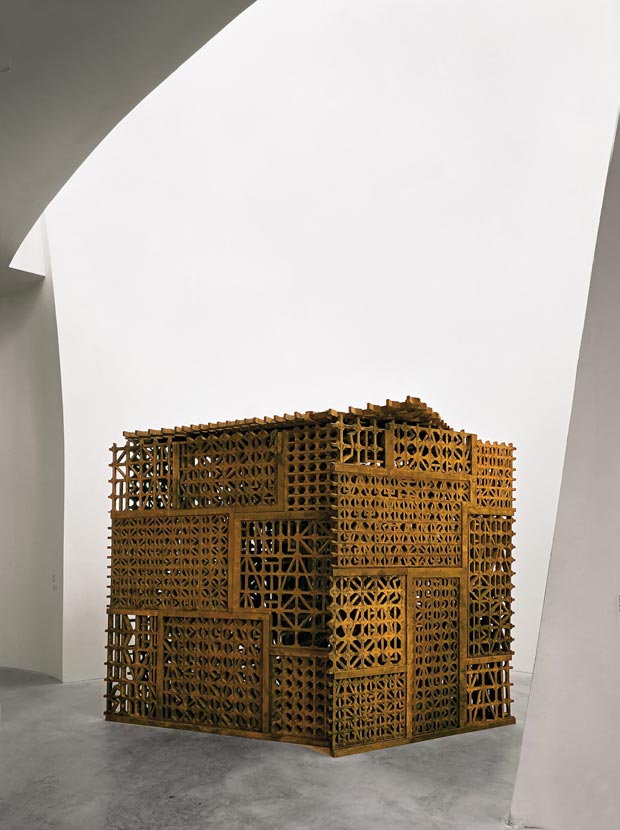 The exhibition organised by the Museo Reina Sofía, which includes over fifty pieces, is the largest retrospective of this artist that has been held to date, and it covers her earliest work up through her most recent creations. Over these three decades, Cristina Iglesias has been very interested in redefining sculpture as an expanded field that leads to a questioning of the object in its relationship with space and architecture. Her sculptures integrate with the architecture of the places they occupy, and thus play with the interweaving of reality and appearances. Her artworks generate suggestive fictional worlds and set aside all utilitarian purposes, to become settings conducive to reflective observation. Intersections between the natural world and the cultural world are frequently seen in her work, with shadows, cascades, whirlpools and foliage, in which the idea of refuge is a recurring metaphor.
The artist has displayed unceasing interest in a wide range of materials, such as alabaster, tapestry, glass, resin, aluminium, bronze, iron, cement, wood, concrete… Even water makes an appearance as yet another sculptural element, playing a leading role in some of her public projects, which are discussed in the series of videos entitled Guided Tours. The exhibition is completed by a review of her serigraphs on copper and cloth.
Dates: February 6 – May 13, 2013
Place: Sabatini Building, first floor
Organised by: Museo Reina Sofía
Curator: Lynne Cooke
Búsqueda para satisfacer el conocimiento de la actividad arquitectónica y tangentes que se generan. La idea es crear un espacio para divulgar los diversos proyectos en busca de nueva inspiración y de intercambio.