Reading is to breathe, is to develop is the first publication that gathers Olafur Eliasson's texts written up to the date. Across twenty-four brief tests and of the evocativas images of some of his works, the Danish artist of Icelandic origin presents the topics more appellants of his artistic path and invites us to think about his complex aesthetic and perceptive universe: from the paper that we recover as observers in a museum or our reactions opposite to the color and the light, up to the different types of movement or the perception of the landscape in the time. As in his artistic work, in this book – with preface of the own Eliasson – the artist encourages us to form a part of his opened reflections, to crossing the diverse raised and, topics especially, that we take sides as readers and go beyond the own work.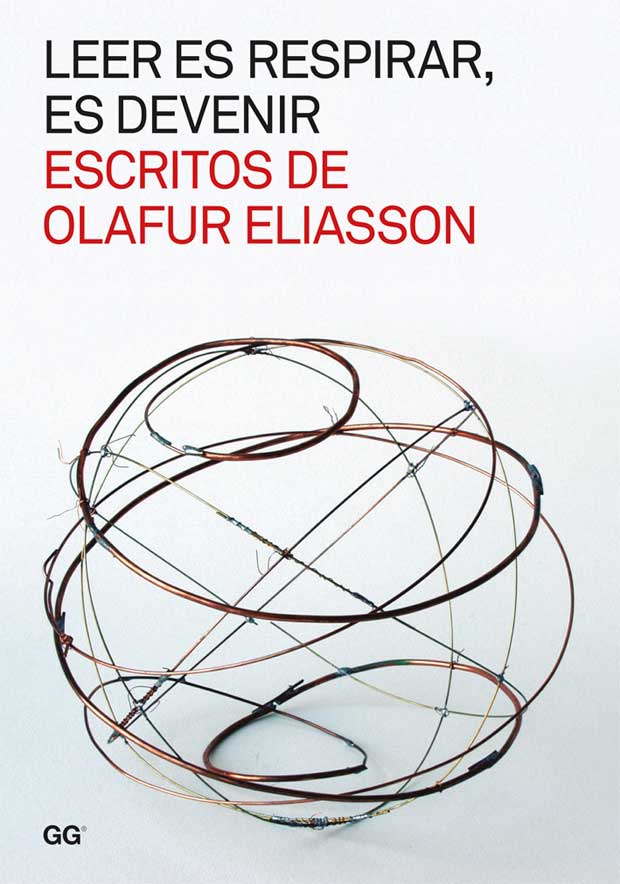 Olafur Eliasson (Copenhague, 1967) is a visual artist whose individual exhibitions have been praised by the critique and showed in the most important museums of the world from 1997. His work is characterized by the incessant exploration of the manners of perception, and his work, which he itself describes as " experimental facilities ", includes from the photography, the facilities, the sculpture or the cinema, up to important projects in the public space and in architectural works. In 1995 the artist founded in Berlin the Studio Olafur Eliasson, which possesses nowadays an equipment closely of fifty persons between craftsmen, architects and historians of the art. As teacher of the Universität der Künste of Berlin, Olafur Eliasson has started the Institut für Raumexperimente (Institute of Spatial Experimentation), an innovative model of artistic education who works from 2009.
The Studio Olafur Eliasson together with Batteríid Architects and Henning Larsen Architects they projected the Harp – Audience and Center of Reikiavik's Congresses, winning building of the Prize Mies van der Rohe 2013.
Moisés Puente is an architect, publisher and translator of topics architecture. He is a publisher of the magazine 2G and between his books they find the editions of texts of Alejandro de la Sota, Josep Llinàs, Mies van der Rohe, Jørn Utzon and Olafur Eliasson and monographic on the domestic work of Mies van der Rohe and Alejandro de la Sota's work. In 2010 it received the Prize FAD of Thought and Critical for his professional path as publisher.
Búsqueda para satisfacer el conocimiento de la actividad arquitectónica y tangentes que se generan. La idea es crear un espacio para divulgar los diversos proyectos en busca de nueva inspiración y de intercambio.