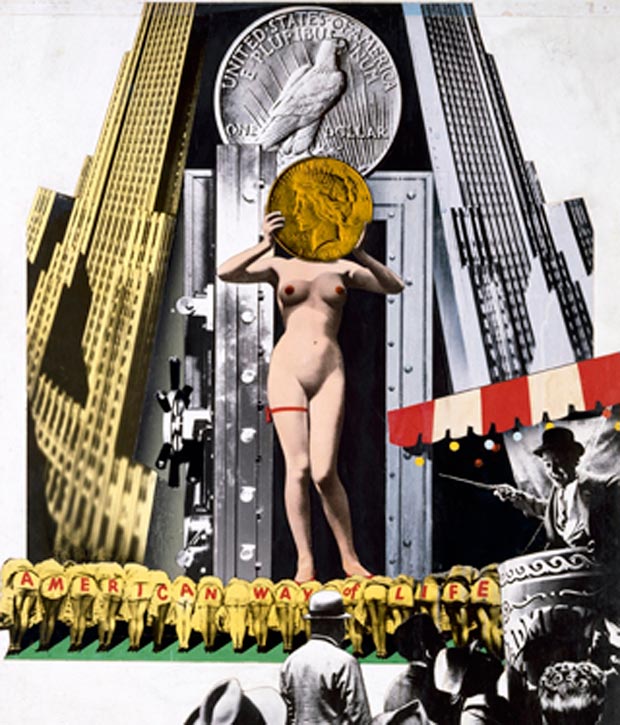 The Valencian artist Josep Renau (1907–1982) was a remarkable exponent of the photomontage technique. His links with the Communist Party, dating back to 1931, together with his political views and the influence of art movements such as Expressionism, Dadaism and Surrealism, led him to the conviction that art should be used as a revolutionary weapon.
After the Spanish Civil War, he went into exile in Mexico; it was there, influenced by the proximity of the United States, that he started to work on his series Fata-Morgana. USA – The American Way of Life. The series – a criticism of the Cold War, capitalism, racism and militarism, heavily influenced by the German artist John Heartfield – sought ultimately to improve man's living conditions. This exhibition brings together the whole series of 69 pieces, highlighting a project that, far from becoming dated, has taken on new relevance today; both as a reflection of the current socioeconomic crisis and as a meditation on the social function of art and culture.
Círculo de Bellas Artes de Madrid (España)
Exhibitions open Tuesdays to Sundays 11:00 – 14:00 and 17:00 – 21:00. Closed Mondays.
Búsqueda para satisfacer el conocimiento de la actividad arquitectónica y tangentes que se generan. La idea es crear un espacio para divulgar los diversos proyectos en busca de nueva inspiración y de intercambio.