The Foundation Contemporary Architecture is a non-profit-making institution promoted by a group of architects in favour of the promotion of the architecture of our time and whose principal ends are the investigation, diffusion and creation of the contemporary architecture.
Between the initiatives of diffusion, the Foundation edits from 2004 the collection Itinerarios de Arquitectura, a series in English and in Spanish who proposes to stimulate the direct visit of the work of the protagonists of the modern and contemporary architecture. In the visit to the work we are led by a book of small format, whereas an interactive DVD provides more documentation in a " virtual itinerary " that contains what a traditional book cannot, as videoes, a wide graphical material and other original documents.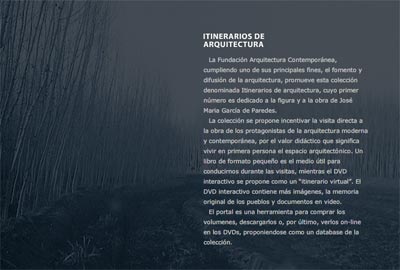 On line with the itinerant spirit of the collection, the desire to bring the architecture over to the citizen across Internet, promoting the new technologies of the information, has motivated the creation of a web Portal of Itineraries of Architecture, with the support of the Department of Culture, as tool of unload of the book and of the DVD and for the on-line and real time consultation during the visits, which one proposes at the same time as a database of the collection.
Búsqueda para satisfacer el conocimiento de la actividad arquitectónica y tangentes que se generan. La idea es crear un espacio para divulgar los diversos proyectos en busca de nueva inspiración y de intercambio.