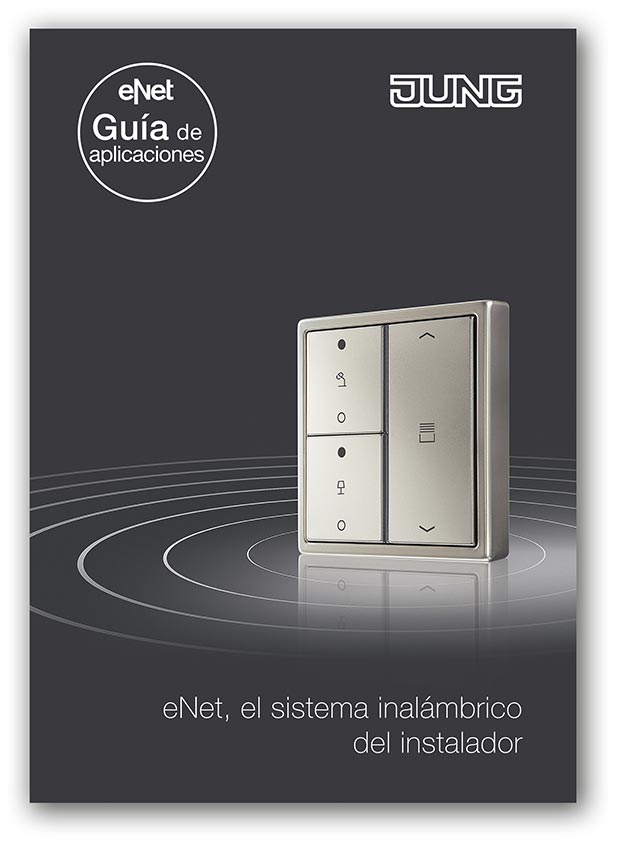 The European leader in electrical equipment, Jung, renews his commitment with installers and final users of the most modern technology of automation of housings and buildings, by means of the publication of new "Guide of applications" dedicated to eNet, Jung's system for the home automated control of electrical facilities by means of radio frequency, without works or cables, which great reception has had in the sector thanks to his extraordinary adaptability to all kinds of buildings, both residential and tertiary, and that is specially indicated in rehabilitation of housings, offices, trades, etc.
In his 16 pages, the document defines of very didactic, visual form and with profusion of practical examples, the uses and applications of eNet, as well as his principal advantages for the installer, between which his cleanliness and rapidity of installation stands out exceedingly on not having needed any type of work or laying of cables.
In addition, the leaflet reinforces also the idea of the absolute respect to the decoration and existing facilities, thanks to the variety of designs and of ended of Jung; as well as his highest capacity of adjustment to the existing installation and to the needs of the final user, who will be able to control the whole system by means of controls distantly or electronic devices as smartphones, tablets or PC in place and, out of the housing or building, in remote way across eNet Server.
The control and regulation of the lighting, the control centralized of blinds and motorized tents or the implementation of a mixed system capable of coordinating actions programmed or synchronized by means of sensors, are alone some examples that develop in the Guide of applications and that show the incomparable advantages of the system eNet of Jung.
Búsqueda para satisfacer el conocimiento de la actividad arquitectónica y tangentes que se generan. La idea es crear un espacio para divulgar los diversos proyectos en busca de nueva inspiración y de intercambio.