Architecture, furniture, industrial, chart, illustration, jewelry, fashion, etc…
DEADLINE 26 MARCH 2010 Directed to: industrial designers, architects, charts, illustrators, interioristas, professionals and students, of any nationality and living in EspañaEl… Study Disseny Etc. it launches his Summons for the yearly programming of exhibitions of furniture, products and projects architectural, in his space of the street Historian Diago for 2010/2011.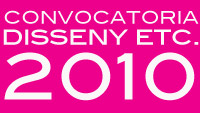 The objective of the initiative is to create a permanent proposal of design and creation directed to the professional sector, to promote and spread in a multidisciplinary frame, projects or products that exit seek in the market. Were selected 32 creators between all categories. The path of the designer will be considered, the development of the pieces that are wanted to explain and los fulfilled projects. The exhibition will have a duration of 30 days.
+ www.dissenyetc.com
Búsqueda para satisfacer el conocimiento de la actividad arquitectónica y tangentes que se generan. La idea es crear un espacio para divulgar los diversos proyectos en busca de nueva inspiración y de intercambio.