If in a conversation on Architecture arose the name of Francisco Coello of Portugal How would remain you? If besides the one who appoints it adorns with face of admiration and regocijo this moment How would remain you? I remained me quiet. It did not know who was neither neither how had gone in in the conversation. My perplejidad, far to happen unobserved,  evidenció in such a way that the architect with which was speaking reproached me: "for real you do not know to Fray Coello of Portugal?" Again I remained me quiet; and with more interest that resignación, accepted my new position in the conversation: listener… do not know those that could associate this name with the field of the Architecture, with the modern movement or with Félix Candela; but yes, it is related. It results that Fray Coello of Portugal had a career destacable like architect, a career conditioned by another vital decision, was Dominico.
Francisco Coello of Portugal is born in Jaén in 1926; in 1934 it studies in the school of the Parents Agustinos, by these dates his intention was to be engineer of ways as it had been it his uncle, Pepe Coins. In 1943 it arrives him the moment to choose his own way and thank you largely to his coined, a naval engineer very linked to the Architecture, decides  by a career, to his seem, much more human: in 1953 it obtains the title of architect. A year later restarts a vocation relegada to the lethargy during years: ingresa in the order of the Dominicos.
After a lot of doubts that during a time caused him important internal fights decides to renounce to his profession of architect. However, his Teacher of Novicios, sabedor of his "parallel vocation" and of the sadness that had supposed him abandon it, begins to commission him small works, like the decoration of a chapel or designs of pieces of furniture like a table-desk.
The première of Fray Coello in the architecture seemed to move away, until the Father Aniceto Fernández proposed him that, once finished the noviciado, commissioned  of a work that began to carry out  in The Virgin of the Way [León]. It treated  of a lower seminar and a convent for the Parents Dominicos. The proposición was very very received by the architect, conscious that it was in front of an opportunity to put in practical all that that had studied; although extraneous, to his time, that in reality what expected him was a better destination, since carrying the direction of work of this project would arise him the possibility to do  charge of the new sanctuary of The Virgin of the Way, and here appeared his first, and for many, better work.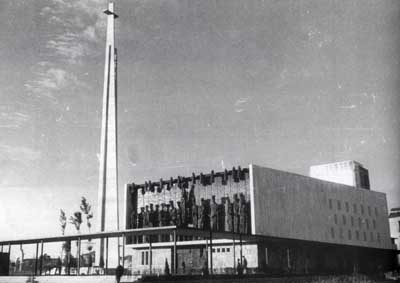 La Virgen del Camino, as it signalled his own author, arose of the afán to create something "…truly modern, a box where save the ancient altarpiece, a temple for an altarpiece…"; powerful ideas if it takes into account the position of the Church, his clergy and therefore, his architecture, in 1955. In fact, the own Fray Coello explains that when they saw the work advised him put marbles since the temple was remaining "something poor". For fortune of the Architecture did deaf hearings to this indication realising a truly risky temple and modern: free plant, campanil exento of 52 metres of high with an altar to the free air, flat cover, metallic structure in the pérgola that urbaniza the group and a marked rationality.
After this brilliant starting point, realised a few works more than would deserve to be stood out inside what has to consider, in my opinion, an architectural production of a very high level. Inventive solutions in buildings really sugerentes form a result that sorteó, holgadamente, the important limitation of means with which worked the author. Judge it you same:
1962/64 Santa Inés Monaster [Zaragoza], 1964/66 Experimental Centre of Social Promotionl [Madrid], 1962/65 Santo Domingo de Guzmán School [Palencia], 1964/68 Sagrados Corazones School [Cantabria], 1962/64 San Martín de Porres School and centre  [Granada], 1965/68 Nuestra Señora de la Paz School [Cantabria], 1966/68 Santa Catalina de Siena Monastery [Madrid], 1967/70 Santa Rosa de Lima School [Tenerife].
Manuel Lopez Carregal. arquitecto
oviedo. may 2010
P.D. This article does not pretend a thorough analysis of the work and the life of Fray Coello; only it pretends to avoid that in any conversation of Architecture arrive  to the question "Don´t you know FRAY COELLO OF PORTUGAL really?"
 Bibliography:
– Fray Coello de Portugal: Dominico y Arquitecto. Esteban Fernández Cobian
– Una entrevista abierta. Entrevistas con el arquitecto Eduardo Delgado Orusco.
-Fray Coello de Portugal: la arquitectura, un espacio para el hombre. ETSA Navarra. Lecciones /documentos de arquitectura.
Arquitecto por la ETSAC [Escuela Técnica Superior de Arquitectura de A Coruña]. Máster en formación del profesorado de educación secundaria obligatoria, bachillerato y formación profesional [Universidad de Oviedo]. Forma parte del estudio SA31 Arquitectura desde Noviembre 2014.
Actualmente también colabora con pequeñaESCALA en la realización y el desarrollo de talleres infantiles de Arquitectura y Urbanismo. Anteriormente trabajó en el Estudio NODALMODE del que fue socio fundador.