Do you want to know the ESARQ? What do we do? Our facilities? To know the new profiles of the architect across former pupils of the ESARQ who are in these moments in the labor world?… Do not get lost it! ON SATURDAY, THE 14TH GIVE APRIL From 10:00.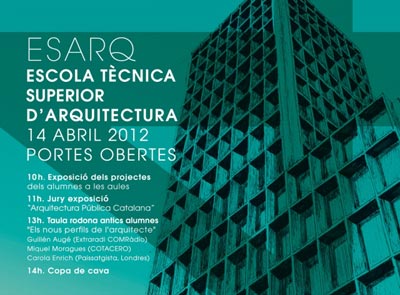 10h.: we will teach You the university and the works of our pupils who will be exposed in the classrooms.
11h.: Jury of the exhibition on " Public Catalan Architecture " that our pupils have realized.
12h.: Presentation of the Master's Degree in Urbanism Regenerating Intermediate Landscapes and of the last book LAU 2.
13h.: round Table on " the new profiles of the architect " at the expense of three former pupils.
@Guillén Augé (UNDO. www.undoarq.com. And habitual collaborator of the program Extraradi de COMRàdio)
@Miguel Moragues (Founding partner of the office COTACERO. www.cotacero.ws)
@Carola Enrich (He is a landscape painter in London)
14.:Glass of Wine-cellar
+ info
Búsqueda para satisfacer el conocimiento de la actividad arquitectónica y tangentes que se generan. La idea es crear un espacio para divulgar los diversos proyectos en busca de nueva inspiración y de intercambio.