The Roca Barcelona Gallery inaugurates next September 18 at 7 p.m. *WASHITECTURE: Architecture of Emergency water for schools of Morocco ', the exhibition of the Vertical Workshop 2014 organized by Rock, in collaboration with the ESARQ_UIC and the support of the We Are Water Foundation. IT´S NECESSARY TO REGISTER.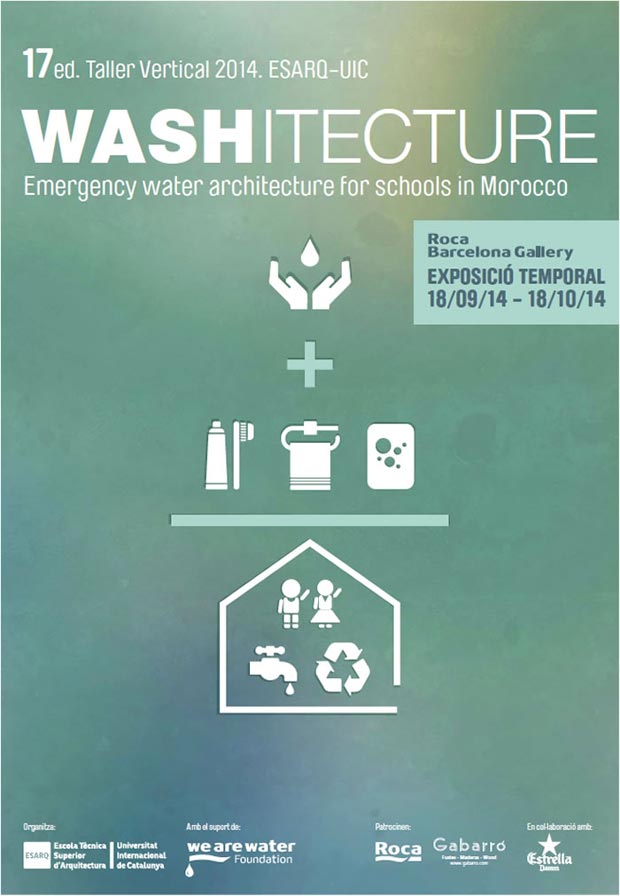 The sample presents the resultant projects of 17 ª edition of the Vertical Workshop, a workshop organized by the ESARQ_UIC in which the pupils design hygienic, units sustainable and didactic, destined for schools of Morocco. The subject matter Vertical Workshop 2014, part of the project of cooperation that the Foundation We Are Water closet develops in collaboration with UNICEF in Zagora's province. The principal aim is to improve the facilities of water and reparation of 19 schools of primary, as well as to arouse the community and students on the importance of the good practices of hygiene.
The inauguration of the exhibition coincides with the advertisement of the winning project of the Vertical Workshop 2014. Forthwith official of delivery of prizes the students of architecture and teachers will be present authors of 6 projects of the workshop, as well as the members of the juror formed by the designers Martin Azúa, Job Claret, the architects Javier García Germán, Borja Ferrater, and the Director of the Foundation We Are Water closet, Xavier Torras.
The directors workshop: Estel Ortega AND Tomeu Ramis
Coordinating: Adrián Jurado AND Jaime Fernández
Teachers:
– MAIO: Anna Puigjaner, Maria Charneco, Guillermo López
– Amadeu Santacana (NUG) and Rosa Llull (Bailo Rull)
– David Tapias (Aixopluc) and Francisco Cifuentes
– Zuloark: Manuel Domínguez and Juan Antonio Chacón Grajera
– Irma Arribas and Oriol Ventura (Nieto&Ventura)
– Emiliana Design Studio: Ana Mir and Emili Padrós
Búsqueda para satisfacer el conocimiento de la actividad arquitectónica y tangentes que se generan. La idea es crear un espacio para divulgar los diversos proyectos en busca de nueva inspiración y de intercambio.