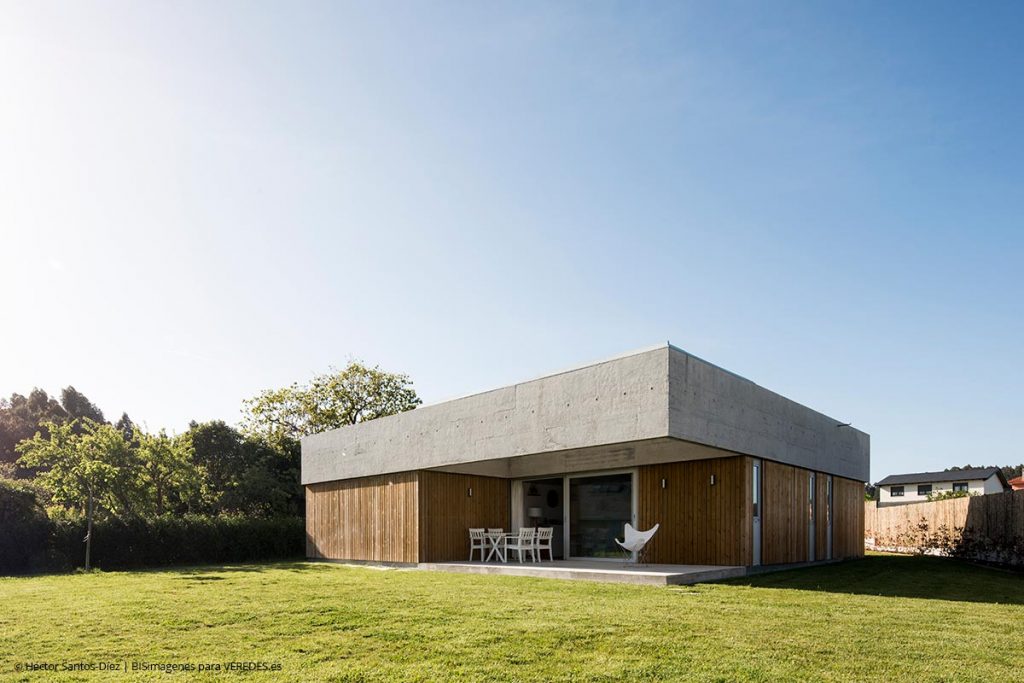 A small holiday home in Mera –Oleiros -, the result of a family with two children.
A friendly environment in the natural, on an intermediate scale, in a context suitable for living on foot, but difficult in the next built. Absence of references in their environment beyond orientation. An ostensibly triangular plot, with more than seventy meters along the road.
A pure form is chosen, a square of 12.40m, which allows you to escape from the context, to focus on the intimate relationship with the plot and the nearby nature.
Limits are proposed that blur the shape, extending to define a garage, retreating to create outdoor living spaces or wrap work items. Only from the height + 2.20m. It materializes massively in the form of a solid reinforced concrete as it qualifies its heights in section according to the interior functions that are developed in each space –3.20m. be, 2.50m. bedrooms, 2.20m. storage / toilets, 2.70m. kitchen…-
Constructively, the structural definition is pampered with two objectives: pay attention to the thermal envelope to ensure good energy performance and establish the position of the other finishes. For this, a double structure is proposed: the interior, which is wrapped in thermal insulation to maintain its inertia, and the exterior, as a 15x150cm beam that defines a perimeter and is hung from the first by metal connectors. The set is solved with only eight supports.
To the outside, and up to level 2.20, the enclosure is solved with a transventilated facade with a cuperized pine board. The rest of the interior and non-structural finishes are solved with continuous linoleum flooring and white vertical cladding.
Looking for passive systems for greater sustainability, natural cross ventilation is established, and can be done in both directions of the house. Porches generate comfort and protection in winter and summer, marking the interior-exterior transition in daily life. The production of hot water is carried out by means of an aerothermal heat pump reinforced with a photovoltaic panel, also having a double-flow heat recovery system for greater optimization of residence efficiency.
The solution on one floor overturns and opens life to the garden. The living room, dining room, kitchen are always outside participants, while the resting places are protected and protected with the storage area.
Life develops without using useless spaces in order to optimize each m2. North porch -filter access-, south porch -filter plot-, day / night and warehouse / facilities. All spaces of the house have natural lighting, because in this way the course of time becomes palpable and the importance of light as an intangible material is valued, regardless of the use of the space. There is no wasteland.
A house with a minimum to maintain and a maximum of leisure time and "to read", that does not present greater concern to its inhabitants than that of enjoyment.
Work: Vivienda Unifamiliar en Mera
Location: Mera, Oleiros, España
Authors: Sabín-Blanco Arquitectos slp. (Patricia Sabín and Enrique Blanco)
Tecnnical Architecto: Rebeca Blanco
Client: Private
Year: 2017
Builded surface: 186,07m2
Photography: Héctor Santos-Díez | fotógrafo de arquitectura | Sabín-Blanco Arquitectos slp
+ sabin-blanco.com
Búsqueda para satisfacer el conocimiento de la actividad arquitectónica y tangentes que se generan. La idea es crear un espacio para divulgar los diversos proyectos en busca de nueva inspiración y de intercambio.