"The man must identify with his home and his environment. Belonging is a basic emotional need."

Team 10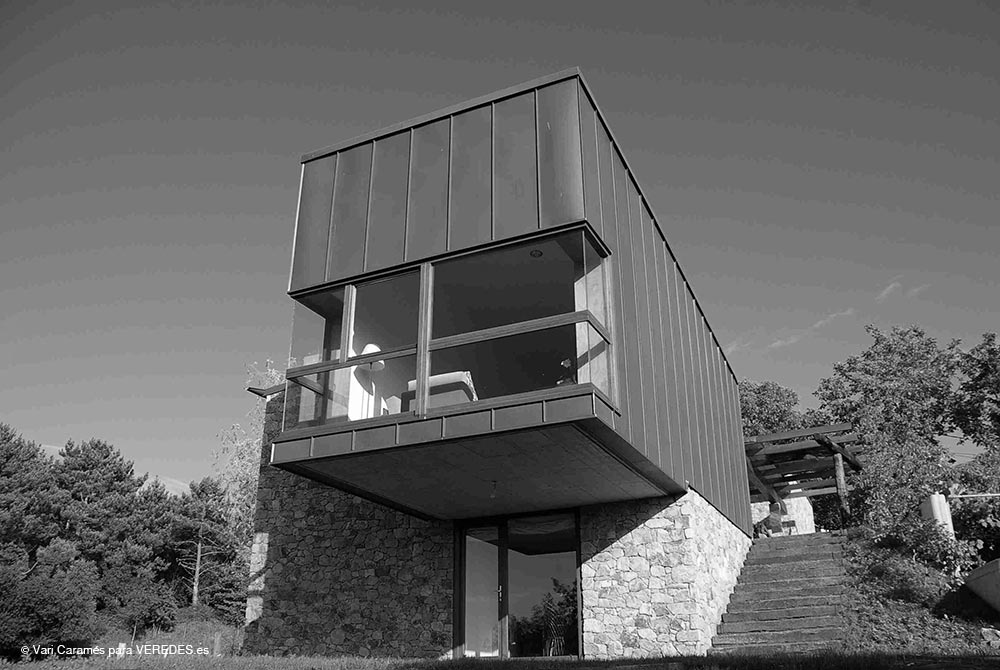 It is investigated not only by constructive systems, but by the same concept of living, doing a strategic use of the emplacement.
The house assumes his belonging to the rural core; a volume of stone lodged in the area and a viewing-point that gravitates on the slope they form the inhabitable place.
Across the perception of the exterior the inhabitants of the house take part of the nature that they makes a detour, at the same time as they feel protected from her turning the house into a refuge – viewing-point on an ideal space, her laugh.
The court is conceived as continuation of the housing and uses as transition and filter between the private thing and his most immediate environment; the village of Job.
With good time, the pergola turns the plot into one more part of the house, the buganvillas help to leak the sunbeams.
There exists an attempt of creating a climatic simple house, about which the owners decide if they want that the wind between or not, they want him to open her and that between the fresh air or to close it to be protected, if they want to listen to the crickets to the late afternoon or to guess that the beginning of the day comes closer for the sounds of the birds the awakening.
Constructivly the volume of stone is solved by walls perimetrales of load, on that they rest forged of ground and covered floor, the exterior wall of stone is an autoamble. A tubular structure of concrete sustains the projecting one of more than four meters of the room of viewing-point is. The cover and the exterior covering of the front are solved by smooth sheet of copper of 0,6mm by meeting engatillada. The exterior carpentries are made by wood of cedar.
Of all the trees that existed in the plot only it was necessary to sacrifice the peartree, which was occupying the space of the house. The cherry-tree, the laurel, the willow and both walnuts will continue aging with the housing.
New trees stood firm; a maple, camellias, a magnolio and vines, waiting that when they grow, loses presence the constructed, and the house slips by, as the next traditional buildings, which were not necessary architect.
Work: House in Perbes
Locationcalización: Perbes, Miño, A Coruña, Galicia, Spain
Author: Jorge Salgado Cortizas
Promoter: Faustino Rodríguez González
Year: 2004-2006
Photography: Vari Caramés | Jorge Salgado
Publications
Poética da Casa. Noviembre 2006. Consellería de Vivenda e Solo Xunta de Galicia. Deposito Legal C-3006-2006
Awards
Finalist of the Architectura Award Juana de Vega, edition 2007.
Búsqueda para satisfacer el conocimiento de la actividad arquitectónica y tangentes que se generan. La idea es crear un espacio para divulgar los diversos proyectos en busca de nueva inspiración y de intercambio.