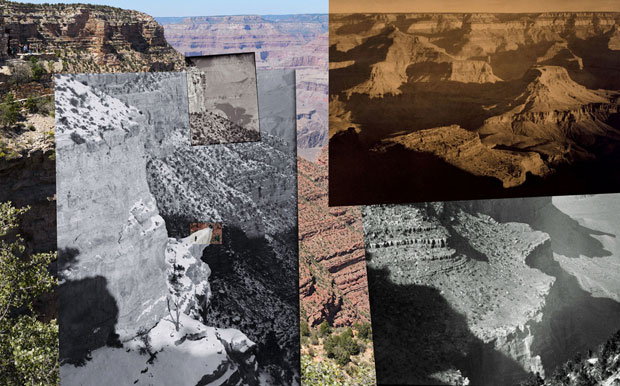 «Though we withdraw added cultural or linguistic, we will never find, below, a pure place – and even less a Space or pure Time-. What we will find they are constant and changeable qualifications on the particular places: places qualified by his own contents and qualified by the different ways in which these contents are articulated (indicated, described, controversial, narrated, etc …) in a certain culture».

Edward S. Casey (1996)
Possibly, the origin of all his work is in his formation as geologist. The look to the landscape that Mark Klett does (Albany, 1952) is a stratigraphic look, where every generation stops besides yes a stratum, a cultural sediment that happens to agree, to enrich the local culture. Teacher of Art in the State University of Arizona and interested in the relation between the culture, the time and the landscape, it began in the middle of the seventies a series of photographies of emplacements of the North American west that had been gathered before by the chambers of the pioneers Timothy O'Sullivan, William Henry Jackson or William H. Bell, in the course of the expeditions commissioned by the Federal Government to document the new western borders of the United States during the second half of the 19th century.
«The landscape has stopped being a paradise and has turned into a mirror that shows an image of our culture. – makes clear Klett – Nowadays we see the photographies of landscape of a similar way to since the shades are perceived in the myth of the platonic cavern. As constructions that show us what we know on the landscapes and territories and the way in which we have obtained this knowledge. That is to say, as the result of an individual experience contextualizada in a definite time of a precise way and, at best, as language on that it comments, thinks and makes the own experience visible»
Fruto de The Rephotographic Survey Project, in 1984, published the results offering the second vision on the American landscape, close to the necessary methodology to carry out the rephotographies. As they need in the blog Arqueología del punt de vista:
«His work, then paradoxically new, was coming equipped from series with a speech on the construction of the imaginary group. This speech contains a political reading. Part of a few images thought by a few members of an expedition in a few almost wild Territories. When them there meets again Klett and his equipment, these landscapes are already a part of a few consolidated States that form an important country. His work is speaking to us this way about the particular perception of a landscape as Nation».
Between the year 1998 and 2000, Klett would take again the project, publishing in 2004 the book Third Views, Second Sights and, more recently Reconstructing the View (2012), in Byron Wolfe's company. The books accompanied of a complete web page in the one that explains the whole process to herself and where can be observed some of the images realized in the 19th century, those of the seventies and those of ends of the 20th century. The complementary visions taken in every epoch reveal that the cultural landscapes have turned into big texts, as suggests Karl Schlögel and, in them, «there are attractive lines of continuity that go from an epoch to other one». For Schögel – since for Klett – the inducement is that this multiplicity of texts can be read and be listened simultaneously, in a luck of polisemia and present polyphony in every look.
Antonio S. Río Vázquez . Doctor arvhitect
A Coruña. february 2015
Antonio S. Río Vázquez (A Coruña, 1981) es arquitecto por la E.T.S.A. de A Coruña, master en Urbanismo y doctor por la Universidade da Coruña. Especializado en teoría y diseño, su línea de trabajo se ha centrado en la investigación y divulgación del patrimonio arquitectónico moderno. Ha desarrollado proyectos de modo independiente y ha colaborado con varios estudios de arquitectura. Es socio fundador de Aroe Arquitectura. Es profesor en el Departamento de Proyectos Arquitectónicos, Urbanismo y Composición de la Universidade da Coruña, y ha sido profesor invitado en la Robert Gordon University de Aberdeen (Reino Unido), en la Universidade do Minho (Portugal) y en la Università degli Studi di Roma La Sapienza (Italia). Es miembro de la red UEDXX Urbanism of European Dictatorships during the XXth Century, del Grupo de Investigación en Historia de la Arquitectura IALA y del Grupo de Innovación Educativa en Historia de la Arquitectura. Ha formado parte del proyecto de investigación FAME Fotografía y Arquitectura Moderna en España, 1925-1965. Los resultados de sus investigaciones, tanto personales como conjuntas, han servido como aportación a eventos de debate y difusión científica y han sido publicados en libros y revistas.