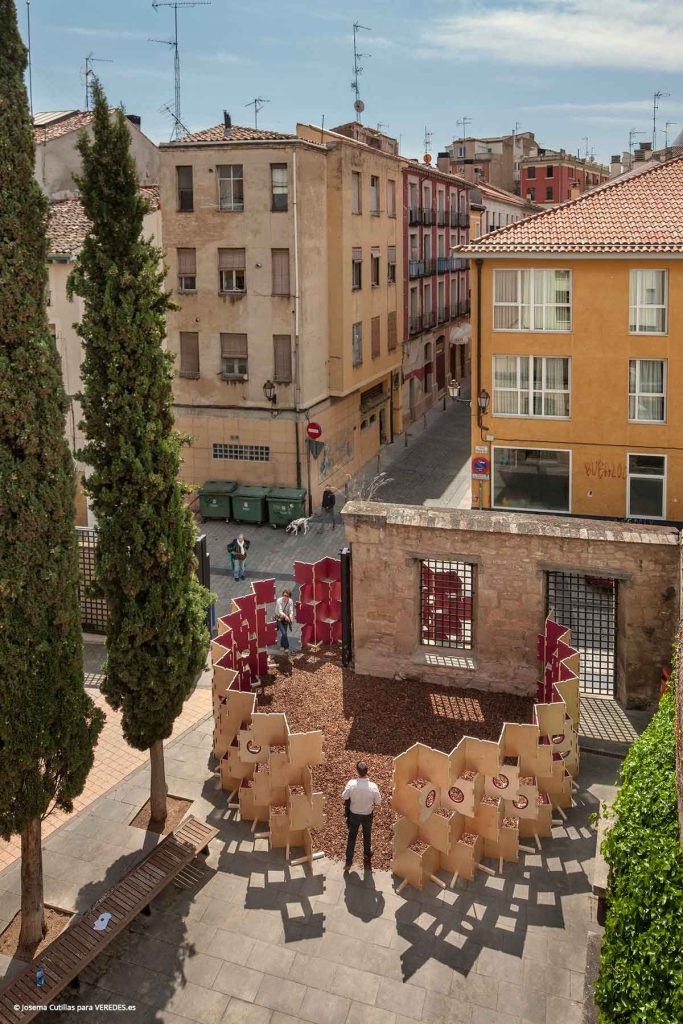 The 4th edition of Concéntrico,, the ephemeral architecture festival held in Logroño at the end of April, numbered also a contribution from the University of the Basque Country among its installations: the "Enclosed Emptiness" project, carried out by the students of the Higher Technical School of Architecture of San Sebastian.
Picked out among the proposals made in the courses of Landscape Architecture and Experimental Lab, respectively coordinated by Mario Sangalli and Iñigo Viar, the design came into being from the original idea of the students Erminia Barone, Haizea Letxaga, Henar Merino, Ane Santamaria and Izaskun Soto and was then developed thanks to the cooperation of all the students of both classes.
The assigned lot was the courtyard of Casa Farias, an urban building in the old town of Logroño that nowadays houses Caritas. The narrow streets inherited from the medieval routes occasionally enlarge and so the front space of the houses breaks free, releasing a courtyard enclosed between streets and buildings.
The proposal just deals and plays with the idea of that space.
It actually creates a courtyard inside the courtyard which moves in order to lean out the street, blurring the boundaries between public and private space. An "enclosed emptiness" -as the original name "Vacio Encerrado" suggests- that qualify the interior of the interior, where to the mystery due to the circle as primitive and sacred shape it joins the uncertainty of the use, including wondering if entering or not due to the bark of wood which covers the pavement inside of it, giving the footstep a different consistence and also a significant different smell because of the wood.
The aim is not just offering a space to enjoy by living it and playing with it but suggesting plenty of meanings and allegories such as the barrel, the wine fermenting in it, the soil where the grape grows up…
From a constructive point of view, the structure is simple and efficient: a one-piece geometry which successfully responds to the maximum use of the 20 panels of plywood supplied by the organization and defines those elements that combined together create a huge basket, the colossal wrap that is the magic
"Enclosed Emptiness".
Work: Enclosed Emptiness | UPV/EHU instalation for Concentric 04
Coordinators: Mario Sangalli / Iñigo Viar (professors)
Original idea: Erminia Barone, Haizea Latxaga, Henar Merino, Ane Santamaría and Izaskun Soto (students)
Development: 5th year students of the School of Architecture of the Basque Country
Location: Logroño, 2018
Photographs: Josema Cutillas / Marco Sartoretto
+ vacioencerrado
Búsqueda para satisfacer el conocimiento de la actividad arquitectónica y tangentes que se generan. La idea es crear un espacio para divulgar los diversos proyectos en busca de nueva inspiración y de intercambio.