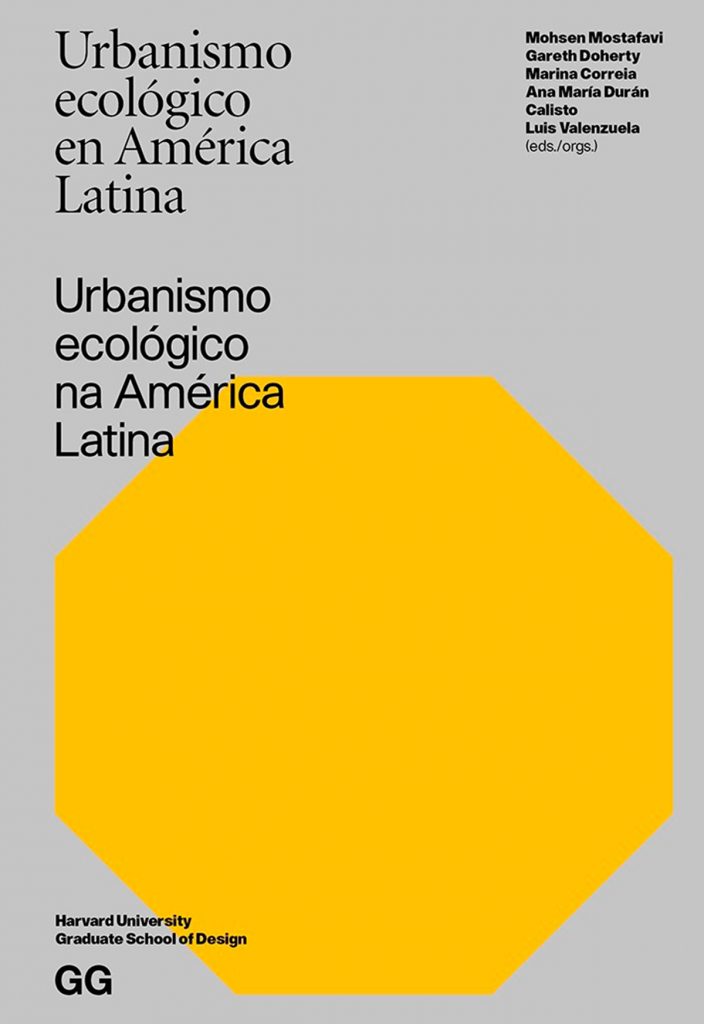 Mohsen Mostafavi, Gareth Doherty, Marina Correia, Ana María Durán Calisto and Luis Valenzuela (eds.)
"Ecological urbanism is an initiative of the Graduate School of Design of Harvard University that understands the project as a synthesis capable of connecting ecology and urbanism. The initiative tries to reveal imaginative and practical methods to address climate change and sustainability in the urban environment, understanding ecology as an ethical and political project that encompasses the environment, not only as physical reality, but also from social relationships and human subjectivity."
In 2014, the first volume of Ecological Urbanism was published in Spanish and Portuguese, a compilation of the texts that emerged from this line of research and urban action of the famous American university. The appearance of this volume gave rise to a series of meetings and debates in various Latin American countries and to the set of essays and works that are now collected in Ecological Urbanism in Latin America. This new volume, edited by Mohsen Mostafavi, Gareth Doherty, Marina Correia, Ana María Durán Calisto and Luis Valenzuela, presents the complex and polyhedral reality of Latin America based on seven thematic axes — anticipate, collaborate, feel, include, mobilize, curate , adapt— that dialogue with the original publication and explore new interpretations.
Parks, river systems, chinampas, São Paulo, Santiago, Chile, educational infrastructure, mobility, agroecology, Diana Wiesner, Elementary, Ermínia Maricato, Tomás Saraceno, Solano Benítez, Guilherme Wisnik, Teresa Moller, Carla Juaçaba … Multiplicity of cases and looks contribute an exceptional panorama for the urban and political debate in the light of ecology and sustainability.
Moshen Mostafavi is an architect and educator, dean of the Graduate School of Design (GSD) of Harvard University and project professor Alexander and Victoria Wiley. His work focuses on the modes and processes of urbanization, and the interrelation between technology and aesthetics. He has been part of the board of directors of the Aga Khan Award for Architecture and the jurors of the Holcim Foundation and the Gold Medal of the Royal Institute of British Architects (RIBA). His books include The surface of architecture (2002), Approximations (2002), Landscape Urbanism (2004) and Structure as Space (2006).
Gareth Doherty is director of the Master's degree in Landscape Architecture and associate professor of Landscape Architecture at Harvard University Graduate School of Design.
Marina Correia is an architect and Professor of Projects at the Federal University of Rio de Janeiro. He studied at the City University of New York, a master's degree from the Graduate School of Design (GSD) of Harvard University and a PhD from the University of São Paulo.
Ana María Durán Calisto is an architect, urban planner and environmental planner from the San Francisco University of Quito and the University of Pennsylvania. She is co-founder of Estudio A0, Quito, Ecuador.
Luis Valenzuela is an associate researcher at the Center for Social Conflict and Cohesion Studies, director of the Center for Territorial Intelligence of the Adolfo Ibáñez University, Santiago, Chile, and associate professor at the Design LAB of the same institution.
Búsqueda para satisfacer el conocimiento de la actividad arquitectónica y tangentes que se generan. La idea es crear un espacio para divulgar los diversos proyectos en busca de nueva inspiración y de intercambio.