The architects Ivo Barão and Peter Hutter take part in the FOROS ESARQ 2013 with the qualified conference "A book and five projects", in the one that they will think over it brings over of the influence that the environment of work, the strategy and the methodology exercise on the projects of a young woman office of architecture.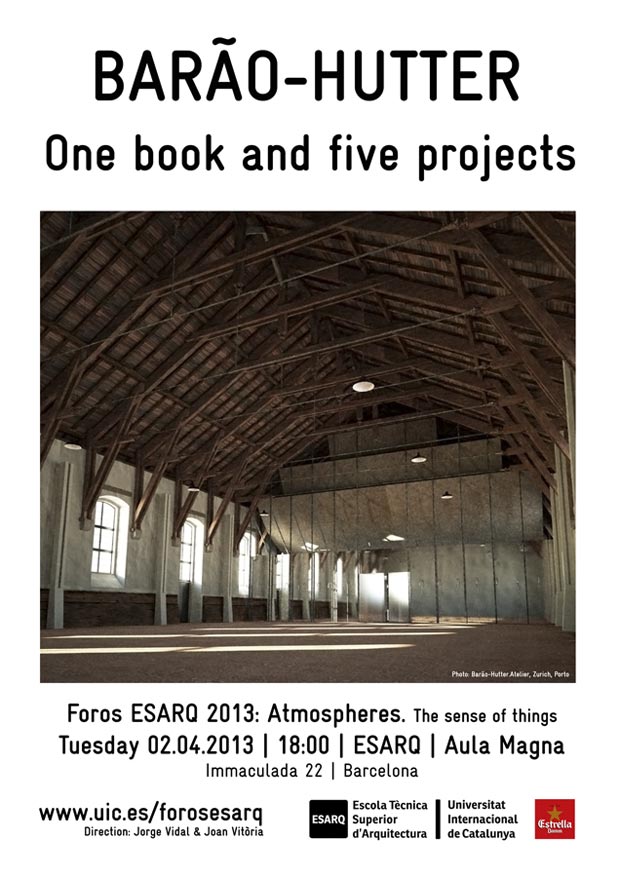 Barão-Hutter shows a personal selection of his work: A book and five architectural projects. Across this selection it will be able turn how the environment, the strategy and the methodology of work happen to be so important as the own projects. In his presentation they will answer to questions as: how does young study understand and defines his practice of the architecture after concluding university? " Or, what type of circumstances and challenges do influence his daily work?
Ivo Barão, born in 1986 in the south of Portugal, studied architecture in the FAUP in I Carry and it was employed at Gigon/Guyer at Zúrich. Peter Hutter, born in 1984 in Switzerland, studied architecture in Zúrich's ETH. Before founding his own office together with Ivo Barão, it was employed at Peter Zumthor's office.
Barão-Hutter Atelier is an office of architecture and objects with headquarters in Zúrich. From 2010 Ivo Barão and Peter Hutter they are employed together at a space that was previously a butcher's shop and that today has turned into a collective and multidisciplinary study. Nowadays they share this space with photographers.
The office collaborates with diverse craftsmen and specialists, such as cooks, producers and gardeners. Due to this particular form of work Barão-Hutter he has acquired an approach very sensitive to the different tasks. His projects guard always narrow relation with the urban contexts or the surrounding landscapes. They bear in mind the typical colors, sounds, daylight, topografías, zones of construction, the vegetation, the materials, shades and architectural ancient elements.
Date: Tuesday, on April 2, 2013
Hour: 18.00 h
Location: Escuela Técnica Superior de Arquitectura de la Universitat Internacional de Catalunya (ESARQ-UIC). Aula Magna -C/ Immaculada, 22, 08017 Barcelona
Búsqueda para satisfacer el conocimiento de la actividad arquitectónica y tangentes que se generan. La idea es crear un espacio para divulgar los diversos proyectos en busca de nueva inspiración y de intercambio.