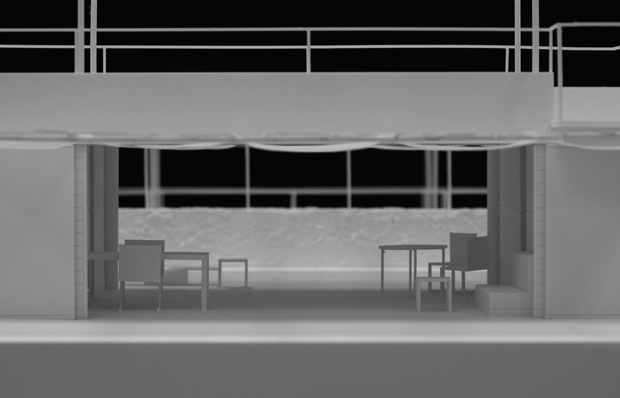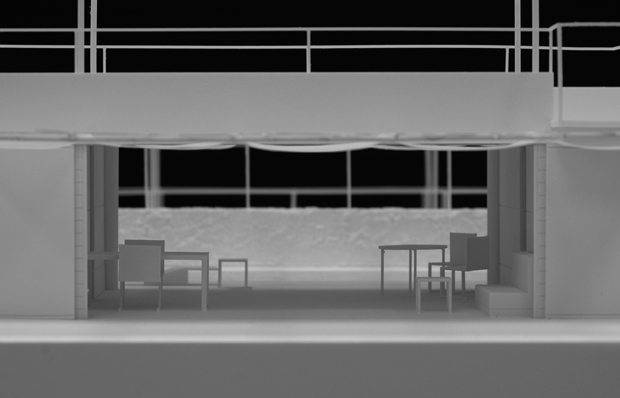 In the year 1949, Alejandro de la Sota projected a residential set in Galicia: a series of temporary housings that were separated of the traditional idea of hotel, locating the housings for different types of dispersed families on the territory, while the common services would center in another isolated building.
Between the residential proposed types one appears with a very simple organization: Concerning a central space – destined for lounge of being and dining room – the bedrooms place symmetrically aside and the kitchen and the zone destined for the service to the opposite one. The core extends towards the exterior underlined by a stony pavement and by means of a thin flat cover rested on both stony lateral volumes.
«The love to the Hollow and to the Clump influenced the composition of the gatherings of this hotel. A wall with good quality is always an architectural topic; the great one likes of being able to use it»1, Sota writes next to the drawings when they are published in the pages of the Revista Nacional de Arquitectura. The horizontal flagstone supported on both massive pieces recreates the perfect example of trilito, one structures that it is possible to observe in the numerous megalithic dolmens distributed by the Galician geography.
Though the project does not manage to materialize, it remained latent in the mind of Jack: more than thirty years later they entrust him another residential set, this time in Mallorca, on the Mediterranean. There there appears the wall, the swimming pool, the viewing-point with vine arbour…and a recognizable house: again, aside bedrooms, to other one, he cooks and bedroom, in the way, only the emptiness.
A central space destined to be, dining room, solarium … that returns to be projected towards the exterior in a double terrace, and there is crowned by the third element, emphasizing his condition of shelter, of portico, of trilito: «we will live in the whole small plot that like that we have turned into the biggest house»2. The life develops above and below the functional opened structure. «If the man shuts in himself in his own house it obtains everything, but it loses nature. It looks then for the way of apprehending her, if not quite, partly»3.
Neither it manages to be constructed. The inhabitable trilito proposed by Jack remains as other one of his multiple architectural investigations. A posthumous honoring comes some years after the hand of Luis Moreno Mansilla and Emilio Tuñón Álvarez, changing the sea of bottom: again the Atlantic Ocean, on the coast gaditana4. There there get up two twin house that look at the ocean. Supported on a platform, the housings use the same scheme: «Two groups of stays are articulated concerning a wide almost exterior lounge that links the court of access and the terrace»5, urning into a good corollary to the search initiated by Sota.
Though the longed one has not seen materialized trilito, we can trace his presence in others of his projects, in the inheritances and honorings. Probably the same thing could think that his companion of generation, the Danish architect Jørn Utzon, when that one, a few months before dying, commented that there had not made anything any more than what the former Greeks already were making: «putting a girder on two columns»6.
antonio s. río vázquez . architect
a coruña. december 2012
notes:
1 SOTA, A. de la, «Hotel para una familia en Galicia», Revista Nacional de Arquitectura 101 (May,1950), 214
2 SOTA, A. de la, Alejandro de la Sota Arquitecto, (Madrid: Pronaos, 1997), 200
3 Ibíd.
4 Casas construidas para Luis, un amigo suyo y sus respectivas familias.
5 MORENO, L. y TUÑÓN, E., «Casas gemelas en Tarifa», El Croquis 161 (2012), 298
6 PRIP-BUUS, M., Jørn Utzon Logbook Vol. V: Additive Architecture, (Copenhague: Blondal, 2009), 310
Antonio S. Río Vázquez (A Coruña, 1981) es arquitecto por la E.T.S.A. de A Coruña, master en Urbanismo y doctor por la Universidade da Coruña. Especializado en teoría y diseño, su línea de trabajo se ha centrado en la investigación y divulgación del patrimonio arquitectónico moderno. Ha desarrollado proyectos de modo independiente y ha colaborado con varios estudios de arquitectura. Es socio fundador de Aroe Arquitectura. Es profesor en el Departamento de Proyectos Arquitectónicos, Urbanismo y Composición de la Universidade da Coruña, y ha sido profesor invitado en la Robert Gordon University de Aberdeen (Reino Unido), en la Universidade do Minho (Portugal) y en la Università degli Studi di Roma La Sapienza (Italia). Es miembro de la red UEDXX Urbanism of European Dictatorships during the XXth Century, del Grupo de Investigación en Historia de la Arquitectura IALA y del Grupo de Innovación Educativa en Historia de la Arquitectura. Ha formado parte del proyecto de investigación FAME Fotografía y Arquitectura Moderna en España, 1925-1965. Los resultados de sus investigaciones, tanto personales como conjuntas, han servido como aportación a eventos de debate y difusión científica y han sido publicados en libros y revistas.