After the trip of East.
In this book the famous trip to East reconstructs that Charles-Édouard Jeanneret (Him Corbusier) undertook between twenty-three and twenty-four years across Bohemia, Austria, Hungary, Serbia, Romania, Bulgaria, Turkey, Greece and Italy.
The author has followed the steps of the young person Jeanneret, city for city, people for people, hamlet for hamlet, street for street, building for building, and has stopped in the details that called the attention of the young person Jeanneret. Accurately and certainty, and of a rigorous investigation, the text manages to narrate the details of the voyage, his impressions and the most substantial discoveries. Later, these discoveries will come out of the work of the teacher of the modern architecture.
In a patient search that Corbusier follows the itinerary of Him, there will be appearing analogies of those impressions with his architectural, plastic and written work. Some of the correspondences that they present will remain insinuated in order that the reader could imagine or penetrate into them them. Likewise, unknown images, dispelled recollections are included, sensations up to today you upset tarts. The compiled images, as the text, will show a new perspective to the reader.
The reader will enter this only statement on a revelation.
The line of conduct and interests of the young person Charles-Édouard Jeanneret in the epoch of the trip of East it was already the same one that that of the old man "Corbu".
The trip scarcely begins …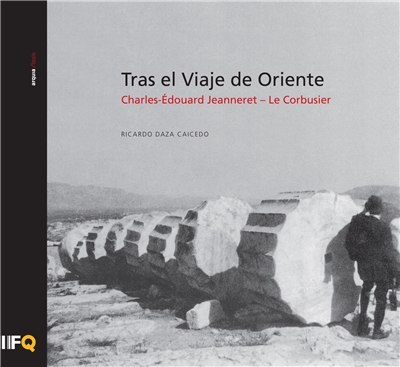 Ricardo Daza
It is born in Colombia in 1965. Architect for the National University of Colombia (1989), has a mastery in History, Art, Architecture and City (1997) and is a doctor for the Department of Architectural Projects (2009) of the Technical University of Catalonia, ETSAB. He has practised as teacher of the first cycle of Theory and projects in pregrado in Mastery and Doctorate in the National University of Colombia; of Theory in the University of the Andes and likewise it has been teacher invited in centers and universities of Brazil, Ecuador, Spain, Colombia, Chile, Italy, Mexico, Paraguay, Peru and Venezuela. From 2010 there directs the Museum of Architecture Leopoldo Rother of the National University of Bogota. Commissioner of numerous exhibitions, has published articles in specialized magazines, as well as the book Sought to Grain, (2000), which have been translated into the Englishman and the German.
Búsqueda para satisfacer el conocimiento de la actividad arquitectónica y tangentes que se generan. La idea es crear un espacio para divulgar los diversos proyectos en busca de nueva inspiración y de intercambio.