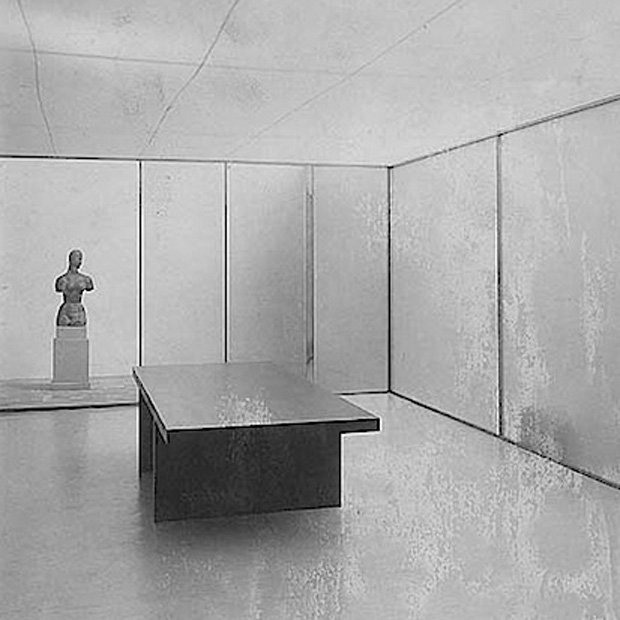 Transparencies
In 1927 Mies van der Rohe and Lilly Reich realize for the Werkbund Austellung celebrated in Stuttgart between July and September under Die Wohnung's name, the Glasraum. Both had already realized one month before in Berlin the oneiric, labyrinthine and silky Coffee Samt&Seide for the exhibition Die Mode der Give Me. These stands inaugurate a collaboration between both, both professional and personnel, which there will show the capacities and products of a re-arisen German industry along mas of eighty exhibitions and of step they will help to Grain to elaborate his own architectural language. The collaboration will end with the movement of Grain to the United States in 1938, but his architecture will remain definitively marked these 11 years.
En 1927 Mies van der Rohe y Lilly Reich realizan para la Werkbund Austellung celebrada en Stuttgart entre julio y septiembre bajo el nombre de Die Wohnung, la Glasraum. Ambos habían ya realizado un mes antes en Berlín el onírico, laberíntico y sedoso Café Samt&Seide para la exposición Die Mode der Dame. Estos stands inauguran una colaboración entre ambos, tanto profesional como personal, que mostrarán las capacidades y productos de una resurgida industria alemana a lo largo de mas de ochenta exposiciones y de paso ayudarán a Mies a elaborar su propio lenguaje arquitectónico. La colaboración terminará con el traslado de Mies a los Estados Unidos en 1938, pero su arquitectura quedará definitivamente marcada por esos 11 años.
The Coffee Samt&Seide, it was a space of 300 square, ambiguous meters and inaprensible, more or less contained between big hanging curtains of velvet and it sedates of different colors, transparency and heights. The photos that come to us reflect neither the color nor the transparencies, but with little effort we can guess the sumptuosity and fragility with which these so light limits were containing the elegant spaces full of chairs and tables of pipe of steel and black leather in that there were sitting down peoples who were living still in housings of the previous century. In the great ship the height of the corridors perimetrales allows to see from above the totality of the tracing of the coffee and to estimate his labyrinthine disposition without direction or center, opened. A new vision of the space that expands physically beyond his textile limits. Space of step and stay simultaneously.
In the Glasraum of Stuttgart, in his scanty 100 square meters located at the end of a series of pavilions of exhibitions, Grain and Reich they must elaborate an interior in which, unlike Berlin, there are definite limits though, as that one, it will be a space of step, atravesable. It will be again a space of entry and exit, of ephemeral stay.
The room of crystal recreates an interior, which we must suppose servant for the title of the exhibition in the one that is located, based on glass screens with carpentries of stainless steel in different modulations placed between a soil of linoleum in two tones and a false ceiling, flat, constant and luminous of white canvas tightened, of constant height. The space forms a tour in spiral of an alone direction. The glass panels are transparent or translucent and create, or rather they recreate, a space of ambiguous use; the only one of four seemingly inhabitable stays, an imitation of room of being with armchairs and a table, is defined by a change in the tonality of soil and delimited by a few small posts and ropes that disable his access, only it is contemplative. The scanty present furniture: the armchairs with his mesita, a solitary table of dining room without chairs in the following room or a rack fills of books in the last stay, a library, also without seats, they shape an idea of domestic scene. There is neither bathroom nor kitchen, but if two courts, inaccessible but visible: vegetation in one and one sculpture of a torso on a pedestal in other one, which they show the only representation of an exterior space. More than a use than housing, the show house anticipates new spaces, rather, new manners of perceiving the new space that announces this new objectivity.
La habitación de cristal recrea un interior, que debemos suponer doméstico por el titulo de la exposición en la que se ubica, a base de mamparas de vidrio con carpinterías de acero inoxidable en distintas modulaciones, colocadas entre un suelo de linóleo en dos tonos y un falso techo de lona blanca tensada, plano, continuo y luminoso, de altura constante. El espacio forma un recorrido en espiral de una sola dirección. Los paneles de vidrio son transparentes o traslúcidos y crean, o más bien re-crean, un espacio de uso ambiguo; la única de las cuatro estancias aparentemente habitables, un remedo de sala de estar con butacas y una mesa, está definida por un cambio en la tonalidad de suelo y delimitada por unos pequeños postes y cuerdas que imposibilitan su acceso, solo es contemplativa. Los escasos muebles presentes: las butacas con su mesita, una solitaria mesa de comedor sin sillas en la siguiente sala o una estantería llena de libros en la última estancia, una biblioteca, también sin asientos, conforman una idea de escena doméstica. No hay aseo ni cocina, pero si dos patios, inaccesibles pero visibles: vegetación en uno y una escultura de un torso sobre un pedestal en el otro, que muestran la única representación de un espacio exterior. Más que un uso de vivienda, la casa modelo anticipa nuevos espacios, mejor dicho, nuevos modos de percibir el nuevo espacio que anuncia esa nueva objetividad.
Does the expressive cartel of the exhibition of Stuttgart show the photography of an interior, classic, heavy and decimonónicamente set corrected with a great red equis and with the question wie wohnen? Written also in red on her. The housing was turning into fundamental topic for the movements of forefront and the transformation that the manners of life from beginning of the 20th century were making necessary. "The housing of our time still does not exist. Nevertheless the transformation of the way of life demands his accomplishment" Mies would say as the director of the last stage of the Bauhaus, in the program of the Deutsche Bau-Ausstellung of Berlin of 1931. Of a Bauhaus that would be closed by the Gestapo two years later. Really the times were changing and not only in the architecture.
The Glasraum was a representative space of if same, a scene clean and empty, ready to receive an action that will be, since in the theatre, ephemeral and of fenced duration. The photos show it, unlike the Coffee, always solitary, without visitors or inhabitants. It is the idea of a housing. The Glasraum anticipates already a way that Grain will develop in the Pavilion of Barcelona, in the house Tugendhat or in the Americans you marry Resister or Farnsworth.
For the "representative" Pavilion of Barcelona, Grain will inherit the foundations of this explanatory architecture and will show, supported on his ephemeral and punctual use (only it is going to serve as scene for the inauguration), the truth of a dense architecture of meanings that comes out the funcionalismo of the machine of living. The Pavilion, as the Glasraum, they are architectural experiments in which Grain constructs realities and fictions of reflections and textures. Royal spaces and reflected spaces coexist with tours and stays of anxious use. They are both spaces in the limit of the asepsis, or of the autism, appearing almost foreign to the inhabitant – visitor if it was not because that one needs the activation from this one. The studding of reflections and transparencies, which comes out the static space herededado of the XIXth, it is while the observer, and eventual and ephemeral inhabitant in both cases, starts it across the mechanisms of his perception.
From the Coffee Mies extracts the texture and the folds of the big hanging cloths, which it recreates with marble and carpets in the Pavilion, in the Tugendhat or in the Resister; and of the room of crystal he learns the German to bring together the transparency of the glass with his reflection. Transparency and reflection that far from unifying exterior with interior, expanding this one with that one, what they do is to contain and to separate brightly one of other one.
Velvet and it sedates or glass and marble they are elements of a game that in Mies come out his mere use and architectural disposition to turn into metaphors of an architectural definite truth. All of them play with the light, with his transparency and his reflection. It is known well that there is the one who says that the light is true and that the truth is good. Let's be so good.
jorge meijide . archuitect
a coruña. march 2013
Arquitecto por la ETSA de A Coruña desde 1991. Colabora en el estudio de Juan Navarro Baldeweg entre 1991 y 1992. Máster de proyectos integrados por la fundación camuñas, madrid 1992. A la vuelta A Coruña se incorpora al estudio de su padre, Carlos E. Meijide Calvo con el que trabaja hasta 2001. Desde 2004 hasta 2009 colabora con los arquitectos Patricia de Marichalar y Fernando Martínez. En el año 2009 forma, junto con Patricia de Marichalar meijidedemarichalar arquitectos.
Desde 2014 trabaja en solitario colaborando con estudios y arquitectos amigos. Es profesor de proyectos arquitectónicos en la Escuela Técnica superior de Arquitectura de A Coruña desde 1997; es tutor de proyecto fin de carrera y ha sido presidente del tribunal de PFC. Colabora con blogs y publicaciones de arquitectura.