The final results of the Third International Prize are already known ACXT IDOM for Projects Career End, in his edition 2008-2009. In all, have been received 323 projects, of which 4 took place in Asia, 11 in Africa, 11 in North America, 38 Central America and of the South, and 259 in Europe. The jury after opportune deliberations, and different selection phases has chosen 3 winners and 6 finalists.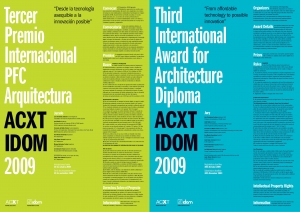 by premioacxtidompfc.wordpress.com
3 winners have been:
– With the motto AF0002, the project 9 Strategies for the basic habitability in the rural community of Kivi (Ghana), of Beltrán Presas Jovaloyes; of the ETSAM, tutor: Carlos Puente.
– With the motto AN0009, the Residential Device project in the Campus of the IIT of Chicago, of Carles Sala Roig, of the ETSAB, tutor: Alfons Soldevila Barbosa.
– With the motto EU0057, the Center Performing Arts project and Theatre in the stonemasons of Pedreres of S´Hostal, Menorca, of Ana Amo Ardura, of the EPS.USPCEU, tutor: María Auxiliadora Galvez Pérez.
On the other hand, 6 projects that have been Finalists are: with the motto AN0010: South Street Seaport Rehab, of Diego Ceresuela Wiesmann, of the ETSAM, tutor: Rafael Torrelo; with the motto EU0039: www.laboratoriodevivienda.es. , of Marta Catalán, of the ETSAM, guardian: Izaskun Chinchilla; with the motto EU0106: Theatre and Residence school, of María Paz Zapico Carrasco, of the ETSAM, tutor: Antonio Ruiz Barbarín; with the motto EU0110: Center of Studies of the Rio Slash in Almada, of Juan Enríquez Lage, of the ETSAM, tutors: Begoña Diaz-Urgorri and Mariano Bayón; with the motto EU0177: Recovery of the Fortifications of the Monte Urgull for the extension of the Museum of St Telmo, of Matilde González Asteinza, of the ETSAM, tutor: Pedro Herrero Pinto; and with the motto EU0226: Infrastructures dosmesticables, of Nicholas Szczepaniak, of Westminster School of Architecture, tutors: Susanne Isa, Leona Weeds and Markus Seifermann.
The jury of this edition has been formed by Luis Fernández Galiano, Jordi Badia, Fernando de Mello Franco, Ana Morón Hernández, Gallic Zayas Caravajal, Manuel Andrades Castro, Jon Zubiaurre Sasia, and such as a secretary Javier Pérez Uribarri.
This International Prize is called by ACXT Architects (www.acxt.net) and IDOM Engineering (www.idom.com), and it has an economic resource of three prizes of 5,000 € each, in addition to a Diploma aceditativo. Winners also will have the opportunity of carrying out a practice scholarship in some branches of IDOM ACXT-IDOM.
premioacxtidompfc
Búsqueda para satisfacer el conocimiento de la actividad arquitectónica y tangentes que se generan. La idea es crear un espacio para divulgar los diversos proyectos en busca de nueva inspiración y de intercambio.