Within the frame of the TECU® ARCHITECTURE AWARD 2010, outstanding works and projects are awarded a prize from the architectural point of view, built from the year 2007 with the material TECU or projected such as a work of study with reference to the material copper. Decisive for the assessment are both the architectural comprehensive concept and the specific to employment materials. They will be able to participate architects and planner all over the world, as well as students of architecture, matriculated in an university or a superior technical school. An international jury, made up of personalities of high range, decides on the granting of the prizes.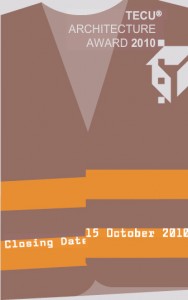 Participants can present his works for fulfilled Works categories or Prize of project for students. Special prizes are granted also for an especially achieved production of a single-family house and for one descollante architectural solution with the product use TECU® system-built.
The documentation of the contest you can already download from now. The deadline for the introduction of the works is the 15,10,2010.
Búsqueda para satisfacer el conocimiento de la actividad arquitectónica y tangentes que se generan. La idea es crear un espacio para divulgar los diversos proyectos en busca de nueva inspiración y de intercambio.