The new monographic number of Tectonica is dedicated to the interior architecture approached from a constructive point of view. The theoretical content of the monograph has been elaborated by the architect Mariano Martin, Interiorismo's project teacher in the School of Design of Interiors of the UPM and teacher invited in the Máster de Interiorismo of the ETSAM. The article analyzes the constructive systems in the interior architecture across the study his meetings, which disposition comes determined both by the characteristics of the materials of coating and by his putting in work.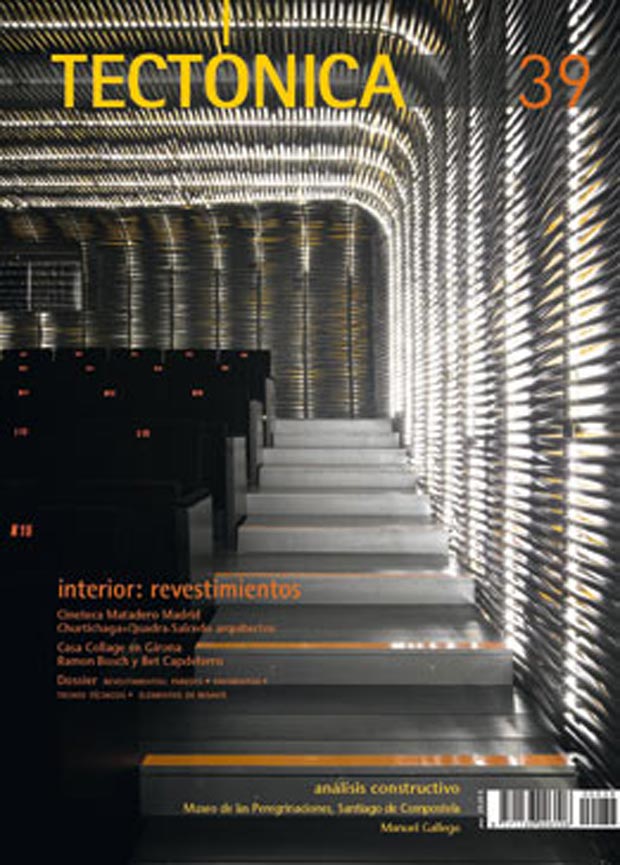 The monograph completes with the constructive analysis of two works of rehabilitation that they combine material and finished original with contemporary coatings, but that propose a very different treatment from the meeting. The Cineteca Matadero Madrid, projected by the study Churtichaga+Quadra-Salcedo, is wrapped in a skin of plaited pipes that shape a dense plot of meetings opened on the original factory. For your part, the House Collage in Gerona, of Bosch Capdeferro, adheres to the existing hanging a new stratum realized with traditional materials without meeting, as the mortar of lime, or with closed meeting, as the hydraulic tile.
Out of the monographic section of interiors, is published the constructive analysis of the Peregrinations Museum in Santiago de Compostela, work of the architect Manuel Gallego. The building, previously headquarters of the Bank of Spain, solves an elegant intervention in a monumental protected space, inserting a light structure after the front of the existing building, which provides to the museum of new explanatory rooms. The diaphanous projected spaces are illuminated cenitalmente from the cover, in which strategic openings practise themselves in search of better conference of the cathedral.
The Dossier of Products of this number gathers the most innovative products developed by the industry of the construction. On having treated itself about the first monograph of Tectonic dedicated to the interior coatings, the present edition of the Dossier is formed entirely by systems and products destined for these applications, paying particular attention to the different materials of ended and to his break-downs.
Búsqueda para satisfacer el conocimiento de la actividad arquitectónica y tangentes que se generan. La idea es crear un espacio para divulgar los diversos proyectos en busca de nueva inspiración y de intercambio.