The new monographic number of Tectonic is dedicated to the industrialization in the contemporary architecture. The theoretical content of the monograph, elaborated by Enrique Azpilicueta and Ramon Araujo, teachers of construction in the ETS of Architecture of Madrid, analyzes the evolution of the constructive systems towards major levels of prefabricación and his increasing requirements of alleviation, deformabilidad, reutilization and recyclability.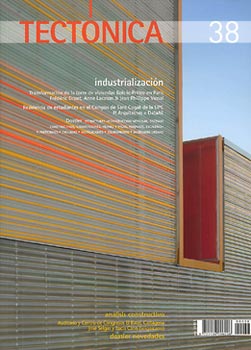 The monograph is completed by the constructive analysis of two projects of special interest by the degree of manufacture in reached workshop: the transformation of a tower of housings in Paris, projected by Druot, Lacaton and Vassal, creating a surrounding bioclimática based on prefabricated modules that are piled up in height, and the university housings in Sant Cugat's Campus of the UPC, of H Arquitectes, constructed by means of overlapping module of apartments that come to work completely finished.
Out of the monographic section of industrialization, publishes the constructive analysis of the Audience and Conference hall The Small boat, in Cartagena, work of the architects Jose Selgas and Lucía Cano. In this building of singular technology constructive and based on the extensive use of plastic materials, the authors have applied diverse technical innovations that raise new perspectives it brings over of the relation between the author's work and the constructive industrial processes.
The Dossier of Products of this number gathers the most innovative products developed by the industry of the construction, giving particular attention to the systems made and assembled in workshop. A special weight has the paragraph of structures, which presents a great number of cards on constructive prefabricated systems and modular constructions ended in factory. The Dossier includes also many other solutions industrialized for his employment in fronts, facilities or partitions.
Edit: A.T.C. Ediciones, S.L.
Directors: José María Marzo and Carlos Quintáns.
Búsqueda para satisfacer el conocimiento de la actividad arquitectónica y tangentes que se generan. La idea es crear un espacio para divulgar los diversos proyectos en busca de nueva inspiración y de intercambio.