Acoustic isolation. The monographic topic of the last number of Tectonic, dedicated to the acoustics in the building, has appeared as a manual of solutions directed to the requirements of the new Technical Code of the Building. The theoretical content of the monograph, elaborated by Ignacio Paricio, professor of construction of the ETSAB, analyzes the strategies to reduce the transmission of air noise and of impact, and to control the reverberation inside the spaces, both in new work and in rehabilitation. The article includes a decalogue of project criteria that guarantee the fulfillment of the new acoustic regulation.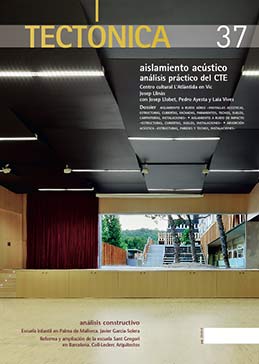 The monograph is completed by the constructive analysis of the Center of Scenic Arts in Vic (Barcelona), projected by Josep Llinàs, a building characterized by the careful treatment of the sound. This number also includes the detailed analysis of the constructive systems used in other two projects: the infantile school in Palma projected by Javier García Solera, and the reform of a school in Barcelona, Coll-Leclerq's work. Though these projects do not appear in the section of acoustics, they offer nevertheless, solutions of control of the noise of great interest, since it treats itself in both cases of buildings of education, in which there must coexist the generation of noises of high intensity with the need of concentration and silence, and that they exemplify the exigency, that can be generalized to any work of architecture, of treating the sound produced in the own environment of the occupants and the one that comes from the exterior.
The Dossier of Products of this monograph constitutes a selection of the materials, products and systems of isolation and acoustic conditioning more innovators developed by the industry of the construction. The selected products have qualified in three groups: isolation to air noise, isolation to noise of impact, and acoustic absorption, and they have been organized in turn according to his typology construciva: structures, covers, fronts, soils, carpentries and facilities.
Publishing house: A.T.C. Ediciones, S.L.
Directors: José María Marzo and Carlos Quintáns.
Búsqueda para satisfacer el conocimiento de la actividad arquitectónica y tangentes que se generan. La idea es crear un espacio para divulgar los diversos proyectos en busca de nueva inspiración y de intercambio.