Esteban Salcedo (NK arquitectura) and Jose M. López Ujaque (Colectivo MEVA), they us present the workshop: "Analogical Thieves in a digital world". The digital world is the world of copying and sticking. We are very acquainted with the short-cuts of keyboard CTRL+C, CTRL+X, CTRL+V because this they are the tools of the contemporary architect, though we strain constant in concealing them and to revile them. We are thieving, steal. The workshop affects in our formation not as poets, but as thieving architects of the contemporary thing, resampleando across another area also increasingly forgotten and left of side: the analogical world. We will cut (cut-up), will fold up (fold-in) and will remove (erase).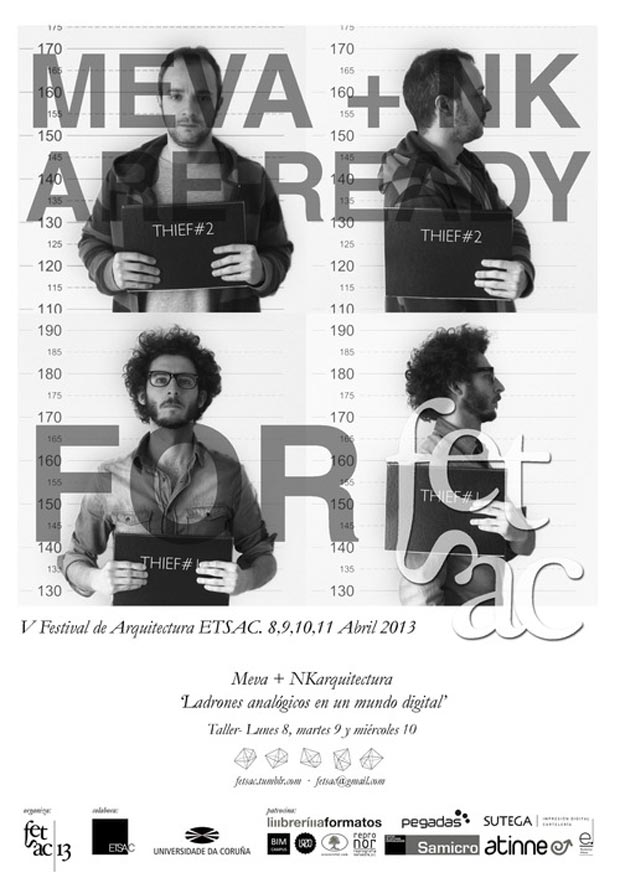 PRESENTATION:
On Monday 8, april  13:00 h.
Salón de Actos ETSAC
DEVELOPMENT:
Monday 8, Tuesday 9 and Wednesday 10, 16:30 h.
Aulas 3ª floor.
BLOG of the WORKSHOP : http://cutupcity.com/ladrones
REGISTRATION/DOUBT: : info@cutupcity.com
WEB:
NK+arquitectura
Twitter:
@somosmeva
@eNeKa2
+ info
Búsqueda para satisfacer el conocimiento de la actividad arquitectónica y tangentes que se generan. La idea es crear un espacio para divulgar los diversos proyectos en busca de nueva inspiración y de intercambio.