The Delegation of A Coruña of the Colexio Oficial de Arquitectos de Galicia and the company of didactic services "A Casiña deLucas" present the workshop IMAGINES Your NEIGHBOURHOOD. How is the neighbourhood in which alive?, it likes me , I throw something in fault?, what would you change?,  is it sustainable?
Explains all these questions like starting point, will imagine, will paint and will mount the neighbourhood in which it would like us live. We will give ours loose income imagination, will enter us in the unroll urban, and will speak of the urbanismo sostible and of the importance of the parks, squares, green zones, lanes bicycles,…Spaces for the meeting and the game in the design of the city.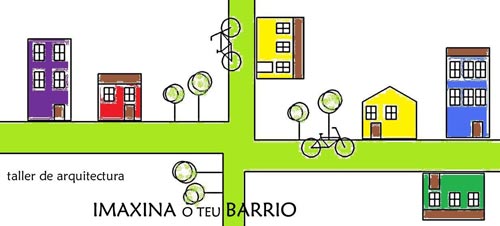 The workshop will allow them unroll our creativity, reflexionar on the place in which we live, and work with values like the consensus, the participation and the work in team.And all this ! Without leaving to PLAY!.
REGISTRATIONS: FREE Workshop for boys of 6 to 10 years.
SQUARES LIMITED, by what is precise previous registration, sending a post eléctrónico with the down indicated data the following direction: tesorera.coruna@colexiodearquitectos.org; :
– name of the niñ@
– age
– Attach cover to following permission: link in web
The receipt of the previously indicated documentation will send  an email of confirmation of the registration.Person of contact for calquer doubts Marta Trasancos,telephone: 662 320 185 (Pta. Comisión de Cultura Deleg. COAG de la Coruña)
tesorera.coruna@colexiodearquitectos.org
Workshop Desarollado by A Casiña de Lucas, initiative of Patricia Unemployed, architect.
OBRADOIRO DE ARQUITECTURA PARA NENOS:"IMAXINA O TEU BARRIO"
Jueves 4 de Octubre, en la Sala de Cultura a las 17.30 h.
C/ Federico Tapia 62, Bajo A Coruña
[mappress mapid="94″]
Búsqueda para satisfacer el conocimiento de la actividad arquitectónica y tangentes que se generan. La idea es crear un espacio para divulgar los diversos proyectos en busca de nueva inspiración y de intercambio.