ARKITIRITEROS is a group of young women formed in fine arts, architecture or design, of different points of the peninsula and whose production centres on the accomplishment of exhibitions, activities and critique across the network.
'Edificios Preokupados". The workshop will have as protagonist the contemporary ruins that like skeletons there has left in all the cities the snap of the real-estate bubble. What will happen with them in 10 years? Will all the skeletons fall down one to one? One will work on the option of the recycling of the same ones as opportunity to give support to needs of the neighbors of the neighborhood.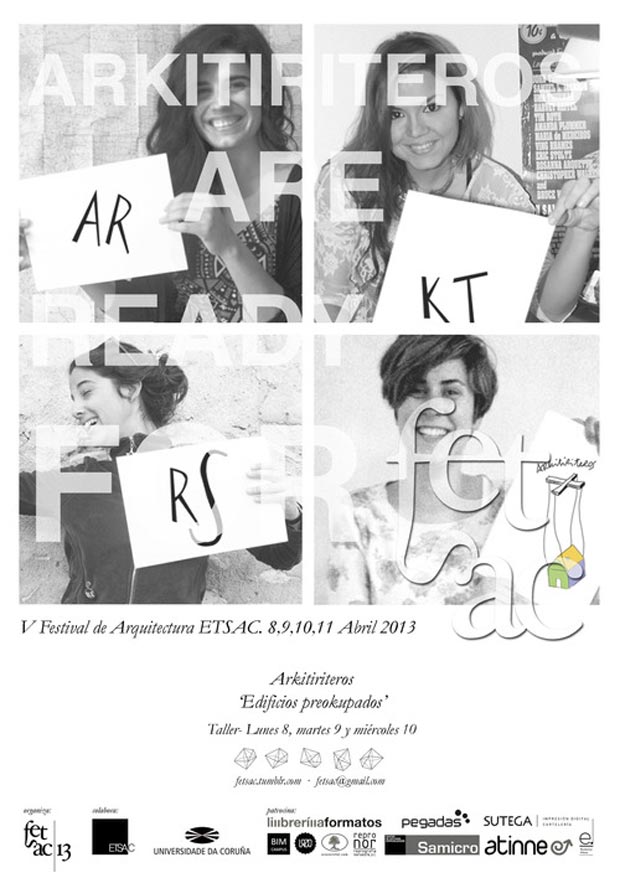 PRESENTATION:
On Monday 8, april  13:00 h.
Salón de Actos ETSAC
DEVELOPMENT:
Monday 8, Tuesday 9 and Wednesday 10, april, 16:30 h.
Aulas 3ª floor.
BLOG of  WORKSHOP: http://pesetasurbanas.tumblr.com
REGISTRATION/DOUBT: arkitiriteros@gmail.com
WEB: http://arkitiriteros.blogspot.com.es
FB: Arkitiriteros en Red
Twitter: @arkitiriteros
Búsqueda para satisfacer el conocimiento de la actividad arquitectónica y tangentes que se generan. La idea es crear un espacio para divulgar los diversos proyectos en busca de nueva inspiración y de intercambio.