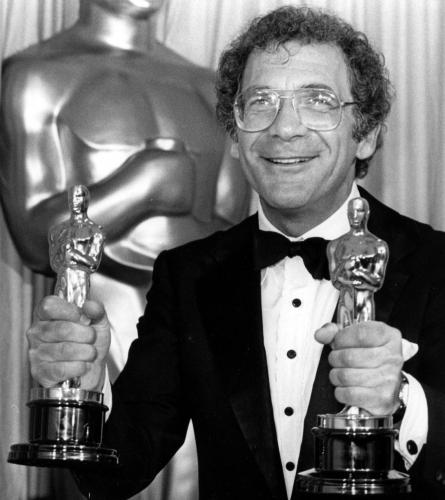 Through the fault of an article that I am writing for an of Lima magazine, I have had to see the documentary Sketches of Frank Gehry directed by Sydney Pollack in 2005. I must confess that only it had seen fragments of this movie and now, that I have seen her he informs, probably some day writes something in this blog on this shameless hagiography.
Between the extras of the Spanish edition there is an interview that Alexander Payne did to Pollack when the documentary had the premiere in Los Angeles, presented by The Film Foundation, Vanity Fair and Tiffany Co., since it can be observed, in some civilized countries the commercial signatures bet for cultural acts related to the cinema.
In this dialog someone of the public asked Pollack him:
"Can it establish some comparisons between being architect and the director? "
and this one answered:
"I hope that they are not egocentric, but I think that the architecture is closely together, in a rapid analysis, of the movies. It is a Mosaic art. It is formed by other many arts. As the director, you do not have to be an expert in everything, but you have to know the sufficient of photography, for example, to know how to use the lenses and the light emotionally, have to know of architecture to know in what floor the personage lives, have to know of design to choose the suitable clothes, have to know how the light works to roll the scenes. You have expert people who does all that to you, but you control her. You imagine him movie to an idealistic level, but you cannot do it without her translating across other fifteen disciplines, which does that you sit a terrible frustration. You imagine a building, because of it Frank [Gehry] is charmed with the sketches, because for him it is the purest aesthetic form. Now you have to construct the building. It means that there must be had suppliers, pipelines, stairs and elevators. The people have to enter and go out. There are also practical problems. It is a species of great mosaic and in this sense I think that they can be compared. Not of literal form, but yes of conceptual form".
Since it is possible to verify, Pollack does not add anything new to the already said for other persons who, as Buñuel eighty years before, have spoken about the collective effort that has to develop in both disciplines to be able to take them to good term, but it is not also bad to remember it.
Jorge Gorostiza, architect. Author of the blog Arquitectura+Cine+Ciudad
Santa Cruz de Tenerife, january 2015
Doctor arquitecto, proyecta y construye edificios y desarrolla trabajos de urbanismo. Desde 1990, publica numerosos artículos sobre cine y arquitectura en medios de su localidad, revistas como Nosferatu, Nickleodeon, Academia, Lateral, Cahiers du Cinema… y en varios volúmenes colectivos. Entre el 2000 y el 2005 dirige la Filmoteca Canaria. Imparte conferencias sobre arquitectura y cine en instituciones como el CAAM en Gran Canaria, la UIMP, el CENDEAC en Murcia, INCUNA en Gijón, Fundación Telefónica, la ETS de Arquitectura y el CCCB de Barcelona, las ETS de Arquitectura de La Coruña, Sevilla, Valencia y SEU madrileña, La Ciudad de la Luz en Alicante, la UNED en Pamplona, en varios colegios de arquitectos, así como en las universidades del País Vasco, Gerona, Valladolid, Málaga, Granada, SEK en Segovia y CEES de Madrid. Jurado en varios festivales cinematográficos, como los de Alcalá de Henares (2001), San Sebastián (2002), Sitges (2003), Las Palmas (2005) y Documentamadrid (2005), y comisario de las exposiciones Constructores de quimeras. (Centro Conde Duque, Madrid, 1999) y La arquitectura de los sueños (Capilla del Oidor, Alcalá de Henares, 2001).
He publicado bastantes libros y muchos artículos, he impartido conferencias, he sido comisario de exposiciones y jurado en muchísmos festivales. Si quieren saber más no duden en consultar mi blog ARQUITECTURA + CINE + CIUDAD.