A space expositive is required exterior, storm, of easy and fast assembly and possibility of dismantlement for future assembly in another location.
A closed space is specified, protégé, that contains documentation and another outer space that is useful of location for the exhibition of the panels.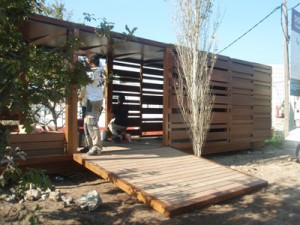 The project seeks the materialization of the search of the all one from the achievement of the parts.
The creation of an expositive space is expected that patterns in the concept of the archeology, showing all one prior to to depart of current partial discoveries.
The cube, store of material and small stay closed, is the last step of the evolution of the faces' composition.
Is sought all the same the creation of a space that is integrated and it emphasizes in his environment.
The wood, as a natural material in the environments of work where these expositives elements are introduced, such as a structure is set up and skin of the project.
The facility in the environment is produced in a representantive way, creating a protection space, above all plot, where the lighting effect and shades becomes element of attraction.
Is included, in the game of the cube combination, the possibility of making independent modules, getting around, combining or to duplicate them according to needs of each location.
The facility is useful grassroots for fixation of the panels expositives.
An autoimposed condition in the conception of the intervention is the minimum interference in the field, only the six zapatas, given that cubes soar on the floor and are communicated with this through a ramp.
Work: Stand for assets
Authors: Muiños+Carballo architects
Year: 2007
Location: Parque archeological of Art Rupestre. Concello of Field Lameiro
Memory: Pablo Muiños – Maria Jesus Carballo
Fotografias: Pablo Muiños – Maria Jesus Carballo
+ www.mcarquitectos.es
+ prizes
· Primer second prize in the contest of Constructive Element Design in convoked Wood in 2008 for the Cluster of the Wood and the COAG.
· Great Prize of Area to the contribution to the architecture of the COAG of Vigo
+ exhibitions
· Exhibition of the Cluster of the Wood of winning projects
Búsqueda para satisfacer el conocimiento de la actividad arquitectónica y tangentes que se generan. La idea es crear un espacio para divulgar los diversos proyectos en busca de nueva inspiración y de intercambio.