Today we approach up to Oviedo, to know a small initiative stimulated by Sofía López, aparejadora of profession, and Manuel López, architect and teacher for vocation.
"Such an ancient and determinant profession in the design and image of our cities and our way of living that it slips by for the educational official curricula."
The children and today girls are the men and women of the tomorrow, for it it is absolutely necessary to form them as critical citizens and to educate them, with constructive character and without pretension to determine vocations, in order that they are conscious and responsible with his environment.
This way it is born pequeñaESCALA, a project that tries to bring over to the children the world of the architecture and the construction.
"To dream, to glide, to explore, to investigate, to think, to imagine, to draw, to calculate, to measure, to resolve, to represent, to be employed at equipment, to speak publicly, to express ideas and, sometimes, to demolish to return to construct", they are only some of the actions that develop in the different workshops that they organize in pequeñaESCALA.
pequeñaESCALA possesses a multidisciplinary equipment formed by collaborators from other fields, as the psychology, the engineering and the construction, represented by Raúl Lopez, Fernando Lopez and Cristina Imaz respectively.
We leave you with the interview that they have granted to us to know first hand his project and his impressions on today's news.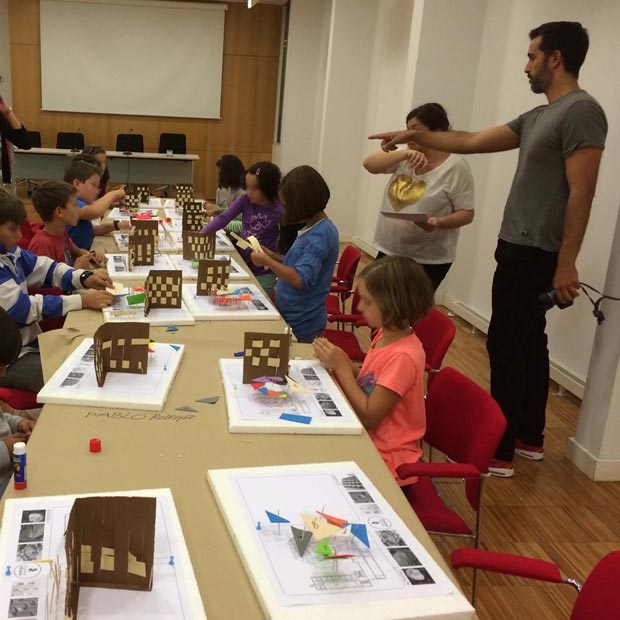 Which has been your formation and professional previous path to "pequeña ESCALA"?
Sofía: Formation in Technical Architecture and a path 10-year-old professional in Building in economic management and of human equipments.
Manuel: Architect for the ETSAC and Master in secondary education. Founder of NODALMODE SLP. Nowadays collaborating with small scale and SA31.
What did lead you to opening way you in the education? Why principally with children?
Sofía: The idea of the infantile workshops linked with the world of the Architecture and the Construction arises as many ideas in these times, for an almost forced professional evolution, which leads to looking for new ways. Three years ago spoke to me about Chiquitectos in Madrid, I put in touch with them and they transmitted an idea that filled with enthusiasm me. From here, I wanted to undertake something similar in Asturias. I believe that our sector needs to approach the company of a new form, especially to those who will be the citizens of the future.
Manuel: Always a vocation of teacher was there latent, my parents are teachers, and always I was in touch with this world. Ultimately you do not know when to give a draft or a change of third and this opportunity arose with Sofia.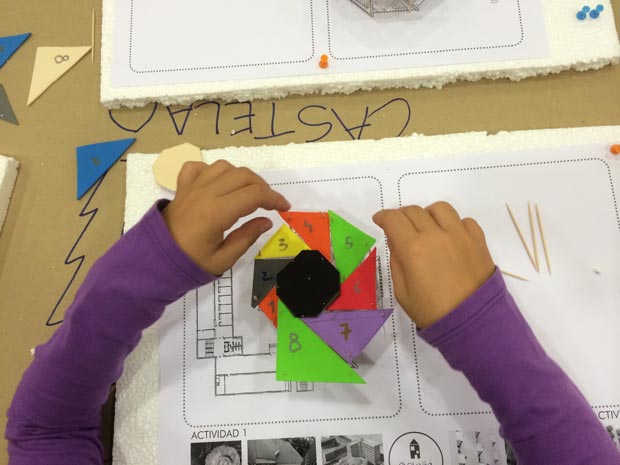 Had you some previous experience?
Sofia: In my case I have had experiences of formation, but only with groups of adults and focused on the Prevention of Labor Risks in the Construction. To sow in the infantile public is infinitely more gratifying.
Manuel: I have collaborated with colleges helping to carry out small activities in the area of infantile.
Did you meet many difficulties? Which were the most problematic?
Manuel: The most problematic thing is to find economic aid to extract forward something as this. I know that it is it of always ….. but it is true, with a minimal support everything would be a bit simpler. Later at the moment of working, the children are super receptive persons and it is very gratifying.
Sofía: The value transmits that we give him to what can reach pequeñaESCALA it is the most difficult thing. To make understand that we do not seek to re-lead vocations, but civic values, as the teamwork or the respect for the environment. Of the children who go to football, only one or two it manages to stand out in adult age, with the ballet classes it is in the habit of spending the same thing or with the tennis. Nevertheless we invest in these activities for our children, because we know that they contribute other values.
Are you satisfied with the reached aims?
Sofía: Still we are in the line of exit and in moment to sow. We are satisfied with the reception between companions and parents and after a workshop, always we go out with good sensations and encouraged to continue.
Manuel: As he says Sofia, we are beginning even, the sensations are very good and the illusion is to ceiling.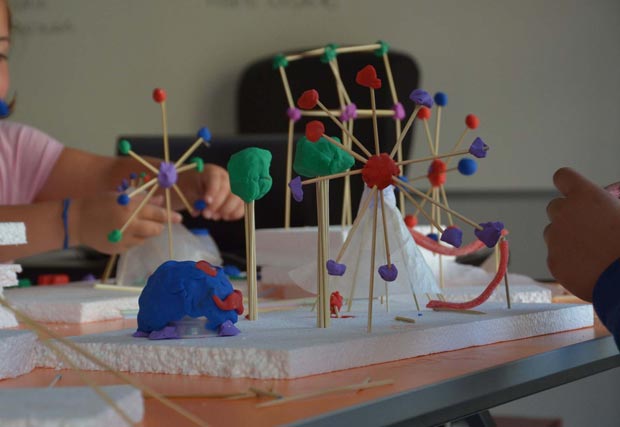 Do you think that to study Architecture has been a fundamental passport to have come to your current work?
Manuel: Do not be which is my current work … to study Architecture it makes you have many and different perspectives of other fields, the workshops always we focus them with a point of connection on our careers. Nowadays there is valued little the work of a rigger or of an architect. The profession is not known and is judged unjustly, because we drag a reputation of another epoch. With the workshops we try to bring over and to announce aspects of our profession.
Sofía: In my case, as Aparejadora, I believe that it has been more determinant to coordinate Works of great volume, that the studies in yes same. In occasions they look like greatly a day-care center, it is necessary to be with thousand eyes.
What expectations and projects of future have you for "pequeñaESCALA"?
Sofía: I have given me a term of two years to develop completely the idea. We have always in mind something similar to a School, with an own space and with an annual programming. In the short term the aim is to arrange the experience, in spite of a few lentils be gaining. He would not speak about expectations to very long term.
Manuel: Difficult to predict, we want to enjoy the experience and to try to come every time to more people, have to go little by little but the intention is to be able to develop these workshops and turn them into something more.
Do you arrange or complement this activity with other labors or in other fields?
Manuel: Always one collaborates with companions and you try yourself to be kept assets in the profession but every time it likes to overturn more in this type of activities and initiatives, little by little pequeñaESCALA gains area.
Sofía: In my case pequeñaESCALA is a complement to the professional activity, but every time I invest more time in developing the project.
Are this type of initiatives profitable? Do you feel remunerated well by the labor that you realize?
Manuel: Profitable economically, at the moment, Not … but we do not look for an economic benefit, if it comes better … it is an almost an obligación to do this type of things, the world of the Architecture happens unnoticed in the colleges and institutes, we try to contribute a brushstroke of something that we consider to be fundamental, a critical thought.
Sofía: If we had begun to realize these workshops for an economic motive, we would not be embarked in this. There are areas where the profitability is very difficult to calibrate. The education and the culture has this label of everything free in our country.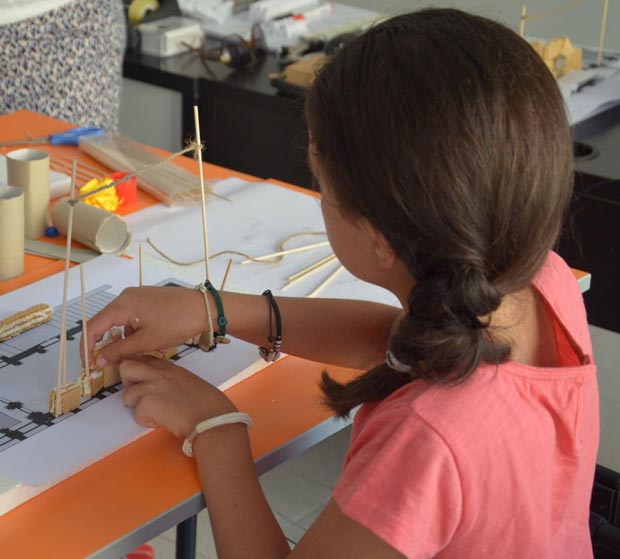 Would you encourage other architects to follow your steps? What steps do you consider that they should give? How to complete his studies? What other advices would you give them?
Manuel: I have the sensation that I give unstable steps, do not meet to give advices, the truth, but the phrase that more I repeat whenever I speak with companions is " spirit, is necessary to continue " .Seguir being formed or since be. What if I would like it is that both the architects and the technical architects we were fighting more for changing the vision that is had of our profession. It is difficult, but to worse already it is not possible to go.
Sofía: The best advice that I have received since I finished the studies 13 years ago has been that of a companion and great professional: "Doing and Learning".
Do you believe that the architects in Spain we should continue opening new routes of work to go out of the "most "traditional" cabin of projecting given the current situation of the construction in our country?
Sofía: What yes I advise, for the form into which it has changed the market, is to complete the formation with languages, on-line marketing, international legislation. Already we cannot think about local or national projects.
Manuel: Certainly, it is important but in this country the base trumps us, which is absent is an architectural education, the bubble, the feísmo, the use that we give him to the cities, how we live through them etc … it is for lack of education. I believe that thereabouts there are routes at which to be employed.
What do you think of those that they have been going to work abroad?
Sofía: If the personal and familiar circumstances allow it, to go away to certain countries is a very good decision. Nothing is easy in these times, neither to remain to go. But fodder that to go out of our zone of comfort, always brings vital wealth-producing experiences.
Manuel: It is an exit as valid as her of staying and working of another thing. As he says Sofia, much depends on the personal circumstances, it is necessary to look for the happiness and tranquility how and where it is.
How do you see the future of the profession?
Sofía: We must reinvent ourselves, but especially trust in the union, in the Official Colleges and in the groups. The collaboration is more necessary than never.
Manuel: Black, as the happy cards.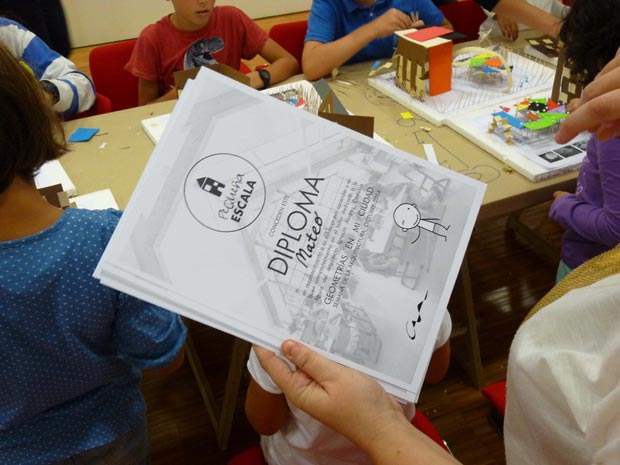 Sofía López Díaz y Manuel López Carregal · Education | pequeñaESCALA
December 2014
Interview realized by Ana Barreiro Blanco and Alberto Alonso Oro. To be grateful for Sofia and Manuel his time and predisposition with this space.