Hejduk visits Valencia in October, 1980, to give a workshop in the School of Architecture. On Wednesday, the 29th, initially of his second conference and clarifying "some ends of the yesterday chat", Hejduk says:
"how many of you do you know the pictures of Unsandstone? Well then, the color of this picture is that of the house The Roche-Jeanneret, and in all the pictures that Unsandstone painted the hands look like tortoises".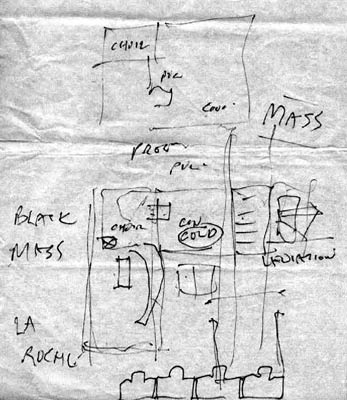 The light that illuminates the figure of the countess of Haussonville, painted by Unsandstone in 1845 (fig. 1), it seems to represent an artificial luminosity, as if, to heighten his figure with regard to the bottom, only the body of the countess was the illuminated thing. The rest of the objects, as the furniture, the mirror, the frame, the vase, the tablecloth and even the socle and the corner of the wall of the room, behind, appear with a uniform tonality and almost without shades. The objects and the wall that they surround the figure of the countess absorb the light, as if it was a question of a plane, as if they were in the own linen, without occupying space in the place where there places the woman who leads the picture.
On having looked at it, one imagines that the light that is projected on his body, unlike the objects of the bottom, comes from an own area. The figure is lit in a way different from the bottom, which shows off to be a plane. It seems as if the woman was illuminated by Unsandstone, invaded by a light that one finds where the painter is, in the moment of the action to do. It might say that the representation of the body of the countess is not identified by the bottom. It is as if they were two different conditions. The figure thinks in a dimension that the place does not correspond to that one that appears behind, where she is identical.
[…]
Carlos Barberá Pastor
+ article is published in Annuaire Massilia
Búsqueda para satisfacer el conocimiento de la actividad arquitectónica y tangentes que se generan. La idea es crear un espacio para divulgar los diversos proyectos en busca de nueva inspiración y de intercambio.