The young person designer vigués, bought property in London, with a work that is extensively published and exposed in the whole world, will inaugurate with a conference, his exhibition of furniture and objects about tables & other things.
As honoring to his land of origin, and with the complicity of the Company SIRVENT, there has wanted to confront the project of the series of furniture VAL DO BARCO, with productive processes and autochthonous raw materials, as the wood of chestnut-tree and the granite, with finished worn out natives artesanalmente for qualified professionals, with the pretension to preserve our identity, the natural resources and the specialized workforce of the habitual trades of our environment.
The exhibition will remain opened in Space SIRVENT from the day of the inauguration, until the next June 20 of 2.014.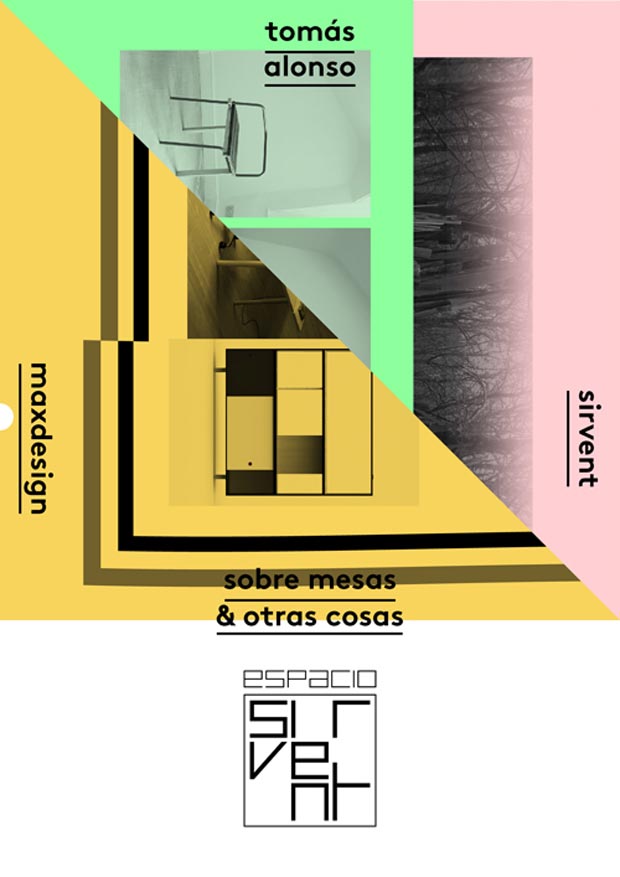 Espacio Sirvent in his constant search of relevant persons dedicated to the design, he presents the work of the industrial designer vigués bought property in London, Tomás Alonso.
The exhibition presents his work from three different angles, but with a common approach; of creating simple and functional objects with a deep respect for the context that surrounds them, from his conception, to his life with us that we use them, happening for his production, completely intrinsic to his aesthetics.
On the one hand the collaboration with companies – in this case centred on the systems of tables and racks Offset designed for the Italian company Maxdesign. Together with them 5 appear the stools º designed for the German Nils Holger Moormann, or the coat racks of wall and kitchen tables for ACE, young woman Swiss company or the containers Euclid for Practice.
On the other hand, we possess some works that the designer realizes in a more experimental way, already be with materials, or processes of production, and that materializes in prototypes or in objects of handcrafted production realized in small editions that normally sell across galleries of art.
And finally we have the presentation of the series Val do Ship, a small collection of tables produced in exclusive collaboration with Sirvent and that bases on a common interest for the materials and productive autochthonous processes of the environment on that they are born, on this case Galicia, an honoring to his land of origin, on which Vincios's granite and the wood of Lalín's chestnut-tree are worn out artesanalmente for qualified and finished professionals of a natural way, reinterpreting the tradition, with the pretension to preserve the natural resources and the specialized workforce of the habitual trades of our region.
His work also can turn in the shops that he has designed for CAMPER, in different cities and countries, with whom it will inaugurate next June, another space in Tokyo.
Tomás Alonso (Vigo, 1.974)
Born in Vigo, Tomás Alonso has been travelling from 19 years to chase his career as designer. It lived, studied and was employed at USA, Italy and Australia before moving to London to complete a master in the Royal College of Art. In 2006 co – founded the group of design OKAYstudio together with other 5 graduates of the RCA.
His work has been extensively published and exposed in the whole world; from the Design Museum or Aram gallery in London to galleries and exhibitions in Italy, Spain, France, USA, Canada or Japan. Between other prizes, it has been chosen as Designer of the Year 2013 by the magazine AD in Spain, Young woman Designer of the Year by Elle Deco Japan in 2012 and Elle Deco Spain in 2011.
His practice, with base in the Northwest of London, is unrolled in furniture, product, lighting, interiors and design of exhibitions and his clients go from international producers to select galleries of design and museums.
It combines his investigation and work of commercial design with, occasionally, teaching and workshops; the most recent thing like teacher of the Master of design of product in ÉCAL in Lausanne, Switzerland.
Exhibition and conference
TOMÁS ALONSO en Espacio SIRVENT
Inauguration On May 15 at 20:00,
Vigo, Galicia, Spain
On May 15 – June 20 of 2.014
Búsqueda para satisfacer el conocimiento de la actividad arquitectónica y tangentes que se generan. La idea es crear un espacio para divulgar los diversos proyectos en busca de nueva inspiración y de intercambio.