A few weeks ago, the inexhaustible library of Javier Echepare's images proposed this Nikolai Ladovsky's project us.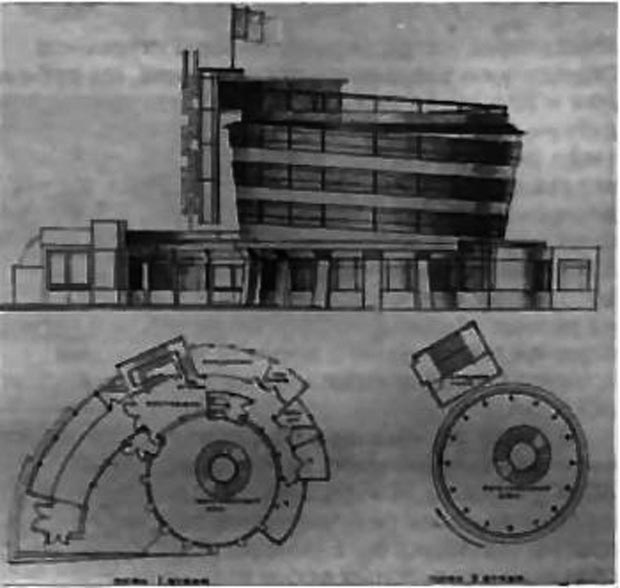 Immediately he us remembered to all much more famous other one, truth?. Certainly, when Javier put this image the response was immediate. We go, that anyone sees.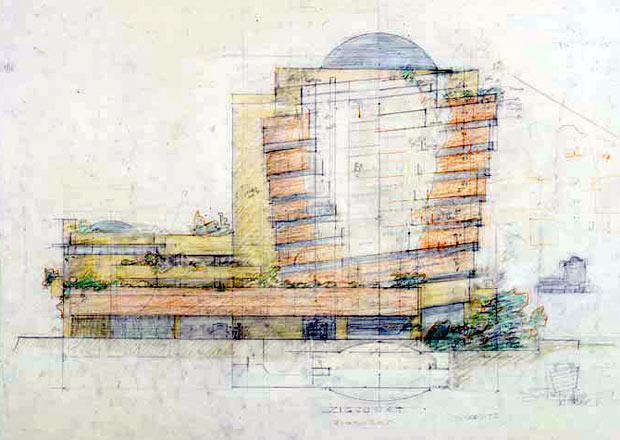 ( In my case, in addition, it gives the chance of which I have the latter drawing in poster, framed rightly to my right, so I see it while I write this).
Ladovsky was a Soviet architect; one of so many torn toys of that revolutionary hope of the architecture, truncated and betrayed by the winning bureaucrats and neoclassicists of the revolution. He was a teacher of the VKhUTEMAS between 1920 and 1932, " neoclassicist by force ", as all, from 1932 on order of Stalin and faked the suicide in 1941.
(There goes parrafito densely that I have just written. In him it fits a novel. Some day will be necessary to write it, but for the present I leave this topic and go to the one that wanted to touch today).
I don´t be if  Frank Lloyd Wright might invoke chance. He visited the Soviet Union in June, 1937, and knew to several architects and his works. It is very probable that there it had news of Ladovsky's project. If it was like that, it had to of impressing him, because he itself was going years obsessed with the idea of the"zigurat".

This one is a project of 1925, which combines a parking with the planetary one (the normal thing).
When, some years later,Solomon R. Guggenheim entrusted him his museum, Wright dusted that parking and returned to screw on a ramp.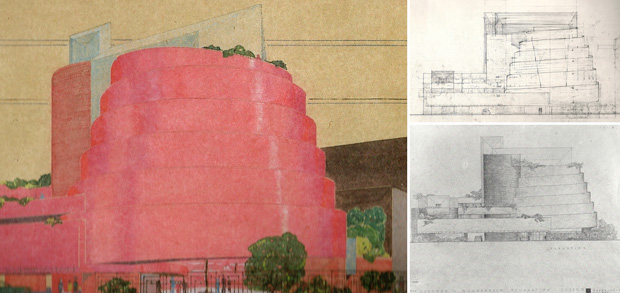 The idea was the same that that of the parking: The ramp to accede with the cars was now in order that the vistantes were circulating contemplating the exhibition. The zones for parking were now for the works of art. And the central space for the planetary one was now a space of luxury, of gift.
The idea was not stopping becoming set, and Wright was proving other options.

In someone of these comparisons it proved again the conical propeller, but this time with the vertex haca below.

Eureka! To every ascending return of the ramp the space was expanding. The central emptiness was becoming antigravitational and was producing a species of inverse dizziness: dizziness up. On the other hand, the whole pot had an unstable air and a great plastic force. Could something have that to see Ladovsky's drawing? I believe that, if Wright saw it in 1937, there is no doubt.
And?
I want to say, and what?
Is it a sin to copy an idea in architecture? In music there are a few procedure: it is necessary to copy a certain number of compases, and with a limit of diversions in melody and harmony, in order that it is considered to be a plagiarism. In architecture there is nothing specified. In any case, an attentive look to both projects clears any suspicion of plagiarism. There can be influence, certainly. All the architects we influence ourselves of one or it forms other one.
The matter is furthermore thorny treating itself about Wright, which it was bragging about an inexhaustible originality and which was spending the life to itself giving mortal stylistic jumps.
Wright could inspire by any architect who was going more than two or three thousand years died, but not by contemporary someone. For God! He was the best architect from the Egyptians! (And probably better enclosed putting the Egyptians, Sumerian and Mesopotamic in the account). In his section he writes the word "ZIGGURAT" to the foot, under the basement, but he would never have written "LADOVSKY". It recognizes his inspiration in an architectural anonymous type and remotísimo, but not in nearby someone.
In any case, it seems to me likely. The architecture does not have as principal mission be original, but to be good. If we leave ourselves to go only for the originality, for making ourselves things that nobody has done ever, and this it is our only line of work, we will spend the life doing ridiculous objects.
( Already I have spoken other times of the tinned dregs of artist and of the blisters with artist's blood. In this respect, ARCO is obstinate in providing his new foolishness every year, us demonstrating that the mere anxiety of originality is a deceit and a stupidity).
On the other hand, the general scheme of a project, his global conception, they have little of original, and small or no need of it be. I can organize my spaces connected in an axis-tour, or concerning a central space, or in mesh, or in height, etc… It will do that the program could be fulfilled better, that the building adapts better to the ordinances, of which the lot takes advantage better … and it serves to start fitting and focusing the project. But the project in yes they are the kilos and kilos of paper, or the hours and hours of computer, until the stairs starts where it has to and lands in the suitable site, and the program is fulfilled, and the space flows, or there controls itself, or what wants that it does, and everything fits.
It is an architecture, and is not copied. It is impossible to copy. Eye: I am speaking only neither about architecture – art, nor about sublime architecture. (Blessed be the one who in addition obtains all that). I am speaking about the mere profession, if you want from the most trivial point of view, and, even this way, and because of it same, of architecture, of organization and characterization of spaces, of resolution of functional needs, of forms, of construction and of everything else.
I am speaking that the project is not done by a grandiloquent gesture by the fat felt-tip pen (it can be only a point of item to clear the area), but with many hours of final touch and decantation.
I am speaking that Wright can copy the idea of a propeller in trunk of reversed cone, but that from her has to do a building.
José Ramón Hernández Correa · PhD Arquitecto
Toledo · may 2012
Author of the arquitectamoslocos?
Nací en 1960. Arquitecto por la ETSAM, 1985. Doctor Arquitecto por la Universidad Politécnica, 1992. Soy, en el buen sentido de la palabra, bueno. Ahora estoy algo cansado, pero sigo atento y curioso.