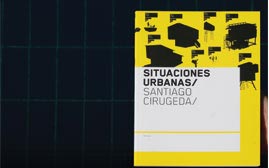 SITUACIONES URBANAS [SANTIAGO CIRUGEDA]
Santiago Cirugeda is an architect atípico that from the start of his career has put in practical his ideas directly on the terrain. Along the last ten years, Santiago Cirugeda has developed a method of work based in the observation and analysis of the city, with the object to face the lacks urbanísticas that in her detects. His architecture, immediate and portable, is sobretodo a deployment of wit and creativity that looks for to propose new models adjusted to budgets limited. Understanding the architecture like a discipline that has to look after the improvement of the social conditions, poses a model of city autogestionada where the citizens can decide on his immediate surroundings. This book presents fourteen concrete situations in which Santiago Cirugeda explains how has been able of tergiversar the statu quo of the city mercantilizada to propose a city more habitable. In him they detail  the strategies that have allowed him reinventar so much the house, like the museums, the university, the social centres or the public space.
Búsqueda para satisfacer el conocimiento de la actividad arquitectónica y tangentes que se generan. La idea es crear un espacio para divulgar los diversos proyectos en busca de nueva inspiración y de intercambio.