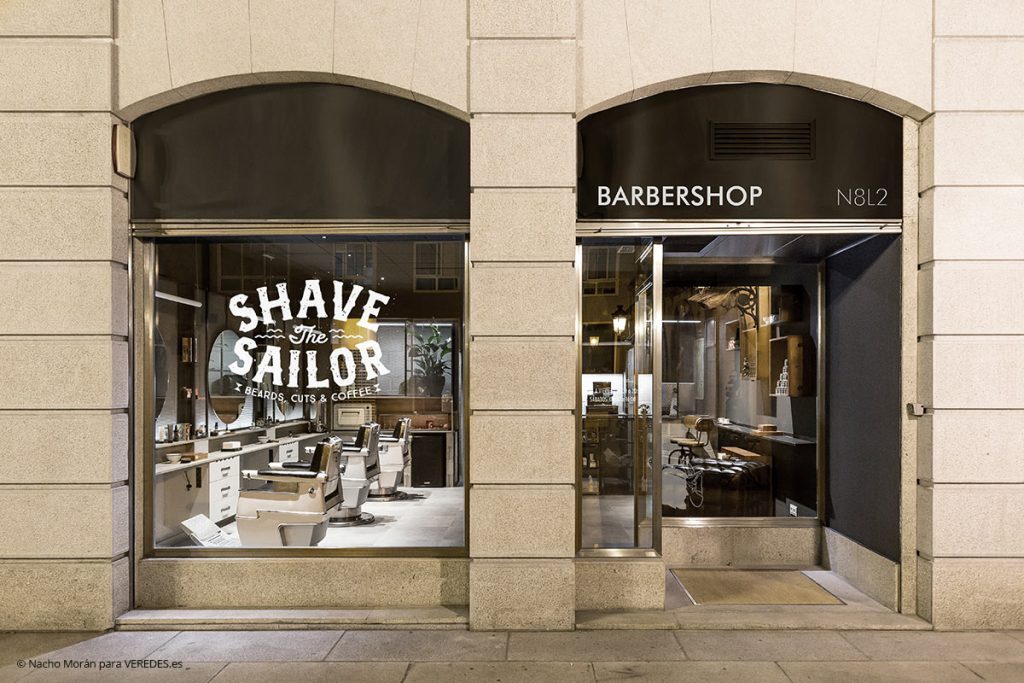 Refined and with character.
Between the gross and the delicate is our last interior reform.
Shave the Sailor is a barber shop located in the heart of Vigo and naval inspired by the shipyard of the estuary.
A space of just 55m2, fully optimized that houses a work area for 3 seats, a bar counter, a wardrobe, an office, head washing, toilet and storage. The place is very studied, so that each square meter is squeezed to the maximum in order to get the best performance without subtracting feeling of spaciousness.
By means of a minimum partition of concrete blocks, which do not reach the ceiling, the most private spaces are delimited. Meanwhile, a more flexible skin with a semi-transparent and metallic character defines the rest of the areas creating a delicate play of transparencies and visual relationships between the different areas.
Metal, concrete and Viroc are the protagonists of the premises. Its natural and raw finish intensify the final appearance of the workshop-laboratory, and fan the garage and industrial atmosphere so masculine and desired by the client.
One of the singularities of barbershop is the treatment and integration of light. The lighting, just and necessary, has helped us to create and condition the environments of each phase of the cutting and care process, grant the essential privacy, and the sensation of indispensable comfort. Therefore, both the placement of the luminaires, the selection of the color temperature and the luminous intensity are measured according to the needs of each point.
Work: Shave the Sailor. Barbeshop N8L2
Author V&BA estudio (Elena Gimeno)
Location: Rua Eduardo Iglesias nº8 L2, Vigo
Year: 2017
Total Useful Surface: 55 m²
Total Constructed Area: 65 m²
Photography: Nacho Morán
Collaborators: Maria Pintos Pavón
Construction: Construcciones Castro Figueiro S.L.
+ vandba.com
Búsqueda para satisfacer el conocimiento de la actividad arquitectónica y tangentes que se generan. La idea es crear un espacio para divulgar los diversos proyectos en busca de nueva inspiración y de intercambio.