Last Friday, the 23rd of March El País newspaper published a brief article signed by Patricia Gosálvez on the " Cinema Marvi ", a former cinema of neighborhood that is in sale. For whom it has not known it, little or nothing will represent the history of this place. Actually one more cinema, or less, of many that were offering in the neighborhoods of Madrid his double programs of repremieres in continuous session.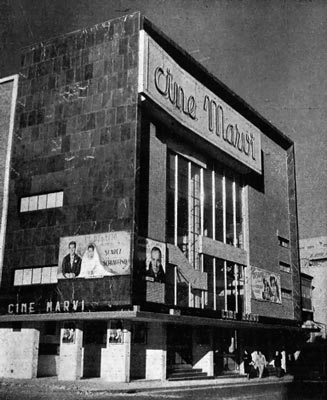 The opening in 1958 of the cinema "Marvi", in the street Cartagena almost forms a corner with America Avenue, he displaced those who were splashing the López de Hoyos street, the " López de Hoyos " and the "Covadonga". The innovation was in that this cinema was the most modern of his epoch in theGuindalera and the Prosperidad. It had double programs to ten pesetas and competia with the "Oraa", with the "Silvela" and with the mentioned ones " Lopez of Holes " and "Covadonga". The "Marvi" projected by the architects Felipe Heredero and Carlos Sobrini, was kept as cinema until 1980. Then America began to work as bingo – room – until the year 2008 that closed definitively. In the low ones of the cinema "Marvi" there was the room of holidays " El Cisne Negro " that later would be called  "Carnival".
[..]
Enrique Fidel
+ article is published in urban idades
Búsqueda para satisfacer el conocimiento de la actividad arquitectónica y tangentes que se generan. La idea es crear un espacio para divulgar los diversos proyectos en busca de nueva inspiración y de intercambio.