The order highlights the need to solve a new commercial building in a peripheral environment with a scattered fabric dominated by single-family homes without a predominant typology. It is crucial to respond to the aspirations of being an object with identity but at the same time integrated into the environment. The proposal is formalized as a rocky prism that, in addition to transmitting a clear and recognizable corporate image, introduces the landscape into its interior. This heavy envelope shelters some light wooden containers, which inhabit it in direct contact with the place.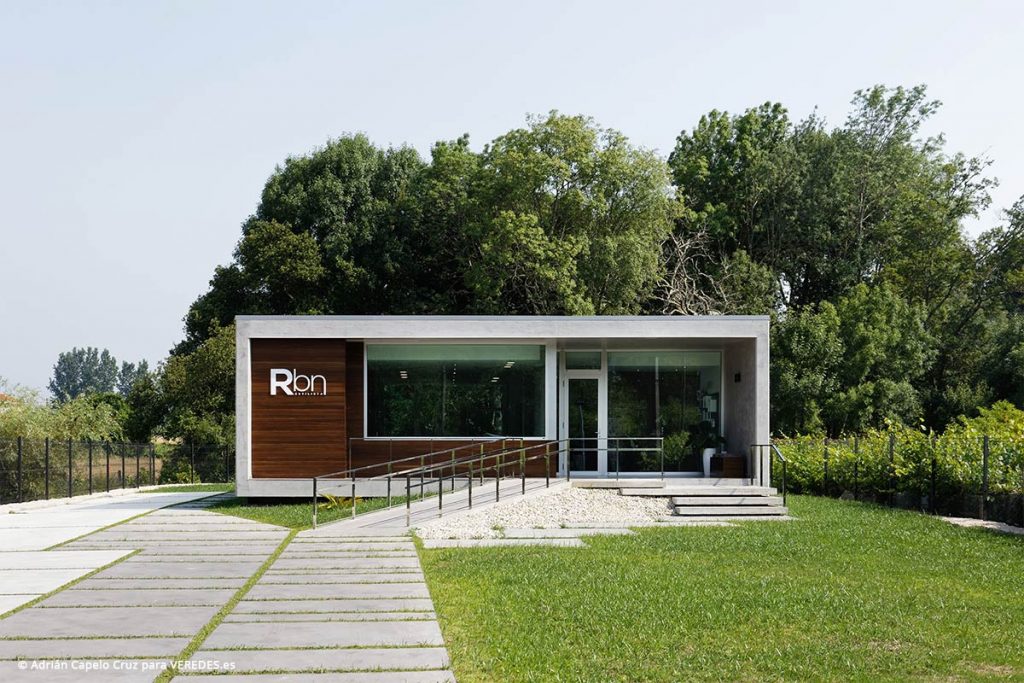 It is materialized as a concrete parallelepiped that rises with respect to the ground level in response to a flooding environment, causing the building to levitate on the ground in contrast to its massive nature. This volume is perforated longitudinally as an extruded volume that generates a vacuum in its interior, presenting a flexible space to solve the program of uses.
As for the wooden containers, they are inserted articulating the interior spaces, being at the same time the expression of the building towards the exterior. Based on its placement, outdoor spaces covered and protected from sunlight are configured to serve as access and exit of the building.
The movement and movement of these wooden boxes means that a central, dynamic and fluid central space is defined for the waiting and waiting areas, serving the spaces they contain to situate the service areas and facilities.
The part is urbanized the front part of the plot for access to the building and the parking of vehicles. The stairs and the ramp are understood as elements in continuity with the above that resolve the transition between urbanization and the building itself.
Work: "Rbn Estilista" Beauty Salon
Author: Puntocero Arquitectos (Miguel Outeiral Moledo and Carlos M. Maneiro Muñiz)
Rigger: Oscar M. González Tubío
Year: Project: 2016 / Construction: 2017-2018
Location: Abanqueiro, Boiro (A Coruña, Galicia, Spain)
Surface: 168 m²
Photographs: Adrián Capelo
+ puntoceroarquitectos.es
Búsqueda para satisfacer el conocimiento de la actividad arquitectónica y tangentes que se generan. La idea es crear un espacio para divulgar los diversos proyectos en busca de nueva inspiración y de intercambio.