This edition of 1:100 is dedicated to the work that realizes the Institute of Investigation in Design and Georreferenciación, IGEO formed by teachers and pupils, in which sustainable prototypes of housing develop.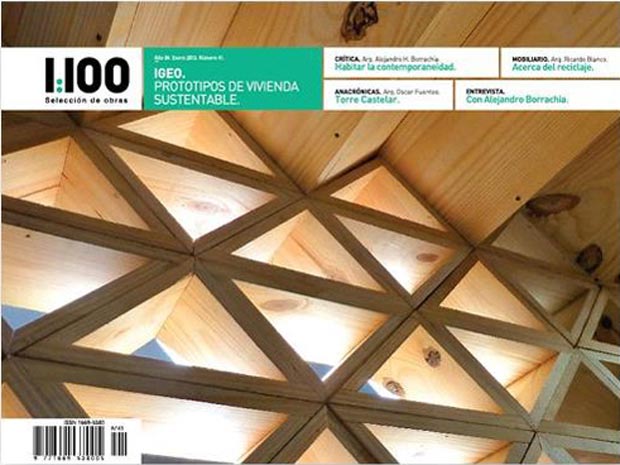 In different events of architecture we could visit the modules constructed by IGEO and throughout the years we were witnesses of his constant evolution. In the above mentioned occasions we were observing the impetus and interest of all his members to spread his investigation and how the public was valuing the initiative and was compromising itself with the offer. In mouth of all the word was appearing "sustentabilidad", a concept that he invites to the reflection. And not only in relation to the architecture … we should look for the sustentabilidad in the social thing, the economic thing, the political thing and, certainly, in the ecological thing. The IGEO proposes a way in this direction, to work as a whole with the population, the governmental and not governmental institutions, which results in the formation of suitable professionals with social commitment, taking the constructive practice as one of his principal premises.
This number invites us to think and debate on the need to generate a change, new methods of thought in which the contextual, technological and climatic variables interact achieving this way the sustentabilidad in architecture.
+ info
Búsqueda para satisfacer el conocimiento de la actividad arquitectónica y tangentes que se generan. La idea es crear un espacio para divulgar los diversos proyectos en busca de nueva inspiración y de intercambio.