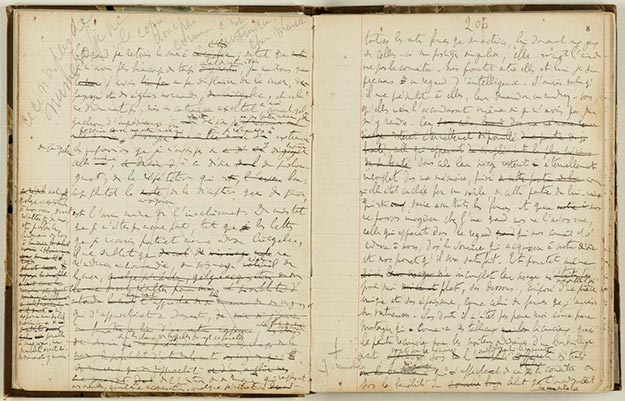 «The text claims and asks for a few scissors in order that they cut it in pieces and re-compose it in another text displacing just beyond. Later, as when it is done well revealed or a cheese, the text is placed carefully in a booth and after a time it is extracted to submit it to the attempt of seeing his lines from another angle, different to with that we saw it before».

Bohumil Hrabal (Cit. in Escribir es un Tic)
Being a student I had the opportunity to visit both housings that Francisco Cabrero had projected for his family in the urbanization of Madrid in Puerta de Hierro. To cross then the houses and the study of the architect with an unforgettable company taught us much more than the classes and the books seen up to the moment.
The same visit, some years later and in solitary, would change completely. Already it was not a question of the initial discovery, if not of another type of search, of analysis, of review on the studied and vivid thing before. Goatherd, great traveler, crossed several times the places in that more he was interested for his Fours books of architecture, using the trip as method of knowledge:
«I travel to understand»,
he was saying. Another teacher of the architecture, Mariano Marín, was commenting on me:
«Every time I travel to fewer places but more to the same ones»:
The visit, the trip, had turned into a review of the learned.
From Veredes they considered rewriting a set of texts that it had realized some time ago for my blog. It was a question of a suggestive offer, so even checking several times my writings, it had never made it once finished. Nine select texts were appearing month a month along this course, being closed with the one that today is published.
Some authors affirm that writing is to rewrite and to be, in this constant review of the written thing, where possibly we find an analogy more next the project of architecture, in permanent immaterial construction until real makes or gives up. When the ambassador of Mexico in Argentina Alfonso Reyes asked Borges him
«Why do we publish?»,
he answered:
«Reyes,  to stop correcting».
The delivery of the project for his materialization means, in spite of his difficulty and the appearance of new questions, the end of a great stage of permanent corrections.
The speed of the contemporary world has reduced drastically the period of the reviews, giving him to the word a more negative character. Already the same places are not crossed calmly, it does not devote himself the sufficient time to revise the realized or to recognize the mistakes. Already not «it sees with attention and care», as he warns the dictionary of the Real Academia Española. The Czech writer Bohumil Hrabal was beyond, making a praise of the review enclosed:
La velocidad del mundo contemporáneo ha reducido drásticamente los plazos de las revisiones, dándole a la palabra un carácter más negativo. Ya no se recorren con calma los mismos lugares, no se dedica el tiempo suficiente a repasar lo realizado o a reconocer los errores. Ya no se «ve con atención y cuidado», como advierte el diccionario de la Real Academia Española. El escritor checo Bohumil Hrabal fue más allá, haciendo incluso un elogio de la revisión:
«Then, a good day, you are returning of the brewery or going towards there, or you have a beer ahead, and suddenly you hear behind you, or in the table of to the side, an event, and the smile shows itself you in the face; nobody knows anything, only you know that this it is the last stone, the last tesela of a mosaic that already is complete, it is possible neither to add nor remove anything, is ready, finished, signed; but with it also it is already dead, because it has finished of amusing yourself».
Antonio S. Río Vázquez . phD architect
A Coruña. august 2015
Antonio S. Río Vázquez (A Coruña, 1981) es arquitecto por la E.T.S.A. de A Coruña, master en Urbanismo y doctor por la Universidade da Coruña. Especializado en teoría y diseño, su línea de trabajo se ha centrado en la investigación y divulgación del patrimonio arquitectónico moderno. Ha desarrollado proyectos de modo independiente y ha colaborado con varios estudios de arquitectura. Es socio fundador de Aroe Arquitectura. Es profesor en el Departamento de Proyectos Arquitectónicos, Urbanismo y Composición de la Universidade da Coruña, y ha sido profesor invitado en la Robert Gordon University de Aberdeen (Reino Unido), en la Universidade do Minho (Portugal) y en la Università degli Studi di Roma La Sapienza (Italia). Es miembro de la red UEDXX Urbanism of European Dictatorships during the XXth Century, del Grupo de Investigación en Historia de la Arquitectura IALA y del Grupo de Innovación Educativa en Historia de la Arquitectura. Ha formado parte del proyecto de investigación FAME Fotografía y Arquitectura Moderna en España, 1925-1965. Los resultados de sus investigaciones, tanto personales como conjuntas, han servido como aportación a eventos de debate y difusión científica y han sido publicados en libros y revistas.