"..ado means that the simple wood and the nake walls, one has arranged a peaceful space (…), concerning a vase of flowers, under a shelf, and even knowing that only they are insignificant shades we experience the feeling of which the air in these places encloses a thickness of silence, which in this darkness he reigns an eternally inalterable serenity".

The praise of the shade, J. Tanizaki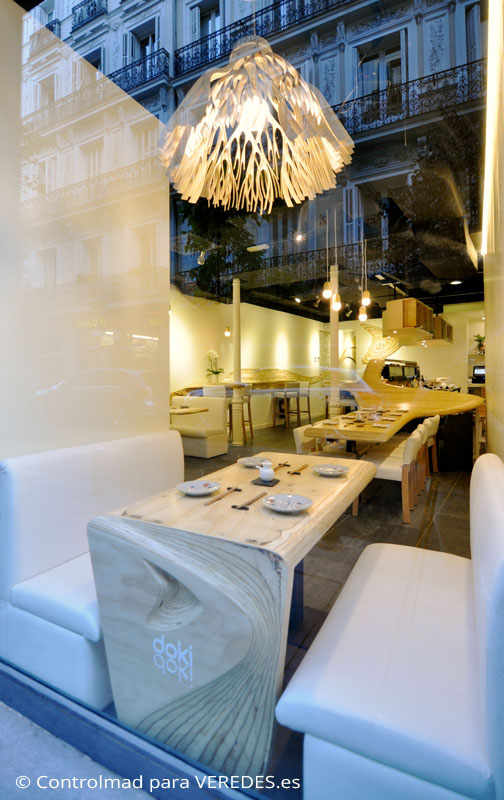 The restaurant Doki Doki designed and made by CONTROLMAD Advanced Design Center, answers as any creative process, to a few direct factors and others that sublie as sediments of the imagination, with the functional rigor that a space of these characteristics needs. Therefore, the idea vertebradora takes root in the search not forced of goal – reading, linking somehow the seams of the material secondhand only one, plywood, with the own textures of the fish used in the Japanese gastronomy. The result is a fluid space that connects three rooms of a constant way, generating in a harmonious way areas of diverse character.
To this are added shades that come from Dalí's oneiric world, Gaudí's organic forms and classic sources of the literature, painting and aesthetic Japanese theory: compositions haiku, patinas, shades, the natural intrinsic beauty of the material …
On the other hand, to answer and to synchronize with the speed of the 21st century has been possible thanks to the vital support of IT supports paramétricos of design 3D linked narrowly with the digital manufacture, allowing the absolute and precise control of the final form.
Work: Doki Doki japan food
Location: Calle de Villalar, 4, 28001 Madrid, Spain
Year: Date of execution June – August, 2014
Author (Design + Manufacture + Installation): CONTROLMAD (Sergio A. del Campo + Diego G. Cuevas + Víctor Armas. Architects)
Collaborator: Daniel Crisóstomo, Technical architect.
Photography and graphical documentation: CONTROLMAD
+ controlmad.com
Búsqueda para satisfacer el conocimiento de la actividad arquitectónica y tangentes que se generan. La idea es crear un espacio para divulgar los diversos proyectos en busca de nueva inspiración y de intercambio.