Rehabilitation and extension of a construction that was bar and small economic restaurant, now as two 'houses' that give form to a square. Two parts of the same house that work as a mirror: if we put a stairs in the new one, it turns out to be different in the old woman and, between both, a threshold that it tenses the time that separates them.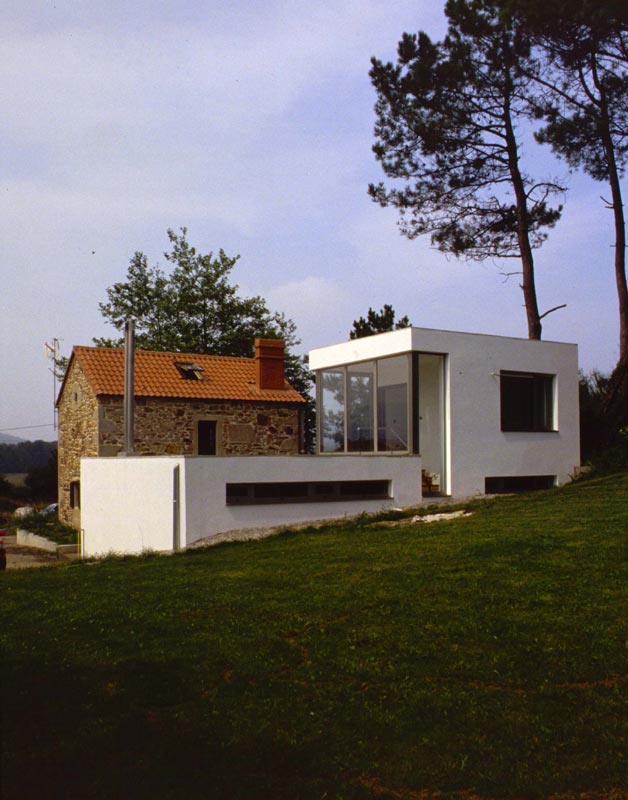 : to enter from the exterior, to rehabilitate using an exterior construction or planting a seed on the garden.
A bar, small economic restaurant in a place where an important fair was celebrated and where the Way of Santiago happens to Fisterra.
His walls are of stone, with an interior plant of 5.05 x 7.25 m. It is going to be the housing of a young pair with two children. Insufficient, they need more space and more surface.
Then the kitchen appears in the garden, with the pantry and a quarter of store and games. And the principal room, and that of guests. It is a new seed that attends to the necessary thing and that grows with the technology and the forms of the concrete.
But the new thing needs from the support of the existing thing to join the place, because of it it extends his arm, a broad corridor that penetrates in the most ancient space, providing him with new uses.
Hereby both 'houses' give form to a square, to which they overturn, a threshold that works as a mirror: if we put a stairs in the new house, it turns out to be different in the old house, and between two o'clock we create a constant tape that from the exterior looks like the strap of a machine of the time entering and going out of the past.
Work: Rehabilitation and extension of one-family housing in Ponte Olveira
Authors: Juan Creus and Covadonga Carrasco
Project and work: 1999-2001
Location:Ponte Olveira, Dumbría, Galicia, Spain
Surface parcels: 978 m2
Constructed surface rehabilitation: 130 m2
Constructed surface extension: 125 m2
Photography: CREUSeCARRASCO
Búsqueda para satisfacer el conocimiento de la actividad arquitectónica y tangentes que se generan. La idea es crear un espacio para divulgar los diversos proyectos en busca de nueva inspiración y de intercambio.